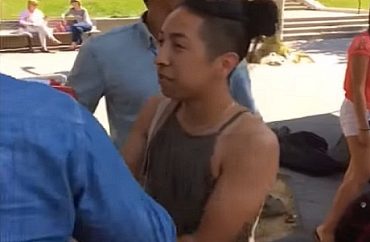 The suspect in Berkeley's first homicide of the new year has been identified as Pablo Gomez Jr., a University of California Berkeley student and left-wing activist.
Berkeleyside reports Gomez allegedly stabbed a woman who, despite her injuries, had managed to flag down assistance. Eventually authorities discovered the dead body from another "violent crime" incident, leading them to tag Gomez as the main suspect.
A Chicanx/Latinx Studies major, Gomez is involved with Berkeley's Queer Alliance Resource Center and "is a senior climate action fellow at Alliance for Climate Education," according to their respective Facebook pages.
Sharp-eyed College Fix readers may recognize the student as one of the activists who confronted the Berkeley College Republicans back in September. In the video, Gomez is shown grabbing their Donald Trump cut-out, telling them it's "f*cked up."
Berkeley CR President José Diaz had said at the time that the agitators demanded that the cut-out be removed "due to the perceived offensive nature that it represents towards them."
Meanwhile, Berkeleyside ended up amending their original article about Gomez's arrest with the following:
"This story was updated after publication to reflect Gomez Jr.'s preferred pronoun, according to a friend who contacted Berkeleyside."
That's right, an accused killer's correct pronoun — "they" — had to be used.
The Daily Caller points out that commenters to the Berkeleyside report expressed anger and disbelief at the update:
"Is this for real? Dude (allegedly) kills someone and we're worried about the pronoun he goes by? Who cares!" one commenter wrote.

"Who the hell cares what pronoun he/she/it prefers to be called by? I'll bet his victims would have preferred not to be stabbed," wrote another.
Fox 2 KTVU news reports the homicide victim is UC Santa Cruz student Emilie Inman, 27, that Gomez is on a psychiatric hold while in custody, no motive is known at this time, and prosecutors have yet to review the case.
MORE: Protesters bum-rush Berkeley Republicans, try to nab Trump cutout
MORE: 'Escape hatch' built for Berkeley admin building after repeated sit-ins
Like The College Fix on Facebook / Follow us on Twitter
IMAGE: YouTube