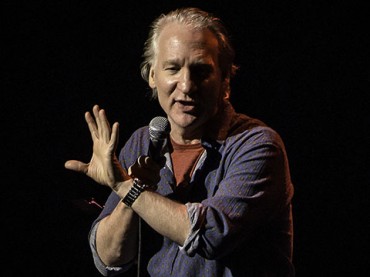 Is this a turning point for universities which previously chickened out of featuring controversial speakers for graduation ceremonies?
First Miami University stood up for inviting George Will to speak, and now the University of California-Berkeley – which is celebrating the 50th anniversary of the Free Speech Movement this year – is standing by its decision to have Bill Maher speak at the winter commencement.
The school said in a press release it's ignoring a vote by the undergraduate committee that chooses speakers to disinvite Maher following outrage at his remarks on Islam:
The UC Berkeley administration cannot and will not accept this decision, which appears to have been based solely on Mr. Maher's opinions and beliefs, which he conveyed through constitutionally protected speech. … More broadly, this university has not in the past and will not in the future shy away from hosting speakers who some deem provocative.
And it's promising students on the committee that their cowardice won't bear fruit in the future either:
Finally, the unfortunate events surrounding the selection of this year's winter commencement speaker demonstrate the need to develop a new policy for managing commencement ceremonies. The new process will ensure that these events are handled in a manner commensurate with our values and enduring commitment to free speech. We will be announcing the new policy as soon as it is ready.
It's quite a reversal for UC-Berkeley, whose chancellor was roundly criticized this fall for seemingly telling students that civility trumps free speech.
The Council on American-Islamic Relations is pissed, decrying in a press release "the university's decision to disrespect students … and instead imposing its own will":
While Mr. Maher has the right to speak whenever and wherever he likes, he does not have the right to have his hate-filled views honored and tacitly endorsed by a prestigious university.
Bill Maher, by the way, has promised to address the controversy on his Real Time HBO show on Friday.
Every news outlet asking me 4 comment on this Berkeley thing but then i remembered: I'VE got a show!And thats where I'll address it,Fri nite

— Bill Maher (@billmaher) October 29, 2014
The Change.org petition asking the school to disinvite Maher is just over 4,400 signatures as of Thursday afternoon.
Read the school's full statement.
h/t CNN
Like The College Fix on Facebook / Follow us on Twitter
IMAGE: Matt McClenahan/Flickr