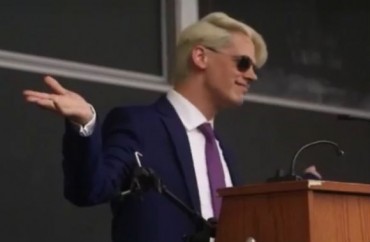 UPDATED
With no sense of irony, University of California Davis protesters screaming about "fascism" at the locale where conservative speaker Milo Yiannapoulos was scheduled to appear ultimately got their wish — the pundit ended up having to cancel his talk due to security concerns.
According to Breitbart, activists "tore down barricades and engaged in scuffles outside the venue," and an ABC News cameraman had hot coffee thrown at him.
Milo took to Facebook to explain:
"My event at UC Davis tonight has been cancelled after violence from left-wing protestors. There are reports of hammers, smashed windows and barricades being torn away. The campus police can't guarantee anyone's safety so I'm not being allowed anywhere near the building. Stay safe, everyone."
However, a university spokesperson denied the hammers and broken windows claim according to CBS News. It reported one protester was arrested for resisting arrest.
Pharmaceutical executive Martin Shkreli was also scheduled to appear at the event.
Protestors now chanting on both sides of Yiannapoulos event. pic.twitter.com/rfWbuT84BZ

— stevelarge_cbs13 (@largesteven) January 14, 2017
Protesters and people interested in the event were so heated they didn't even believe that the event was canceled when it was announced. People for and against the event rallied for hours.

Protesters blocked doors. Police tossed them out. Nobody got inside, not even the Davis College Republicans' headliner, conservative commentator Milo Yiannopulos.

"We came here to have an event that would promote free speech," said Executive Director of the College Republicans at Davis Andrew Mendoza. "And we didn't get to have any speech."

The 400 free tickets went quick, and not just to students. Brandon Toney-James drove in from Sacramento. "Milo is a rising young conservative star, and I wanted to see him pretty much close and in person," he said. …

Nearly 60 UC police officers worked to control the crowd, making one arrest for obstructing an officer and battery of a peace officer. Event organizers made the call to cancel.

"The student's lives were at risk," said Mendoza. "At a certain point the officers lives became to be at risk, and the school property became to be at risk. There was no point in having this if a single person got hurt."
Organizers, UC officials, & police discussing safety of holding #SHKRELOPOULOS event @ucdavis #abc7now pic.twitter.com/jHvBIM1YlA

— Katie Utehs (@KatieUtehs) January 14, 2017
University of California, Davis cancels event featuring Milo Yiannopoulos and Martin Shkreli after protests, fights pic.twitter.com/xbsYsbRn2n

— BNO News (@BNONews) January 14, 2017
UPDATES: The College Fix received a message from an event attendee (who prefers to remain anonymous) who says that protesters were throwing feces and urine at those waiting in line.
Also, The Fix was alerted via Twitter of a video featuring an Iranian immigrant lecturing Milo protesters about the free speech:
MORE: UC Berkeley profs tell chancellor they want Milo appearance canceled
MORE: College Repubs leader threatened by school employee for hosting Milo
MORE: Milo appearance at NYU scrapped due to 'security concerns'
Like The College Fix on Facebook / Follow us on Twitter
IMAGE: YouTube