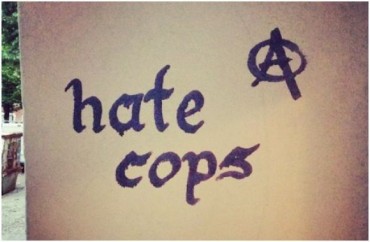 Today, the African American Studies Department at the University of California-Irvine is hosting a talk by Sekou Odinga, aka Nathaniel Burns.
Odinga was a member of the Black Liberation Army and Black Panther Party who spent 33 years in prison for attempted murder and for assisting convicted murderer Assata Shakur (Joanne Chesimard) escape from jail. (Shakur remains in exile in Cuba.)
Here's how the department describes Odinga on its website:
Sekou Abdullah Odinga grew up in Jamaica, Queens-New York in a family of nine. He is a husband, father, grandfather and great-grandfather. He was inspired by the revolutionary principles of Malcolm X when he joined the Organization of Afro-American Unity, followed later by the Black Panther Party and the Black Liberation Army. He is a Muslim, a citizen of the Republic of New Afrika and for thirty-three years was a U.S. held political prisoner of war. In 2009, Sekou reached his mandatory release date for his federal conviction in connection to the Liberation of Assata Shakur – living in exile in Cuba – and was "paroled" to the New York State prison system. After five years, he won a parole hearing and was released on parole on November 25th, 2014 from the New York State sentence.
RELATED: Catholic school takes down homage to cop killer after professor points it out
"Political prisoner" Odinga was a participant in the disastrous 1981 Brinks armored car robbery that resulted in the death of two police officers (one of which was the first black member of the Nyack, New York Police Department) and a security guard.
He initially had escaped from police, but was captured two days later after a car chase and subsequent gunfight. This led to his 1984 conviction for the attempted murder of six police officers, and for participating in Shakur's 1979 prison escape.
During his trial, Odinga justified the theft of the money as "expropriation" because the funds "were robbed through the slave labor that was forced on them and their ancestors."
He also justified the killings of the officers and guard — they "had interfered" with said "expropriation."
The "Republic of New Afrika" to which Odinga belongs was founded in 1968 and desires an "independent black state" encompassing Mississippi, Louisiana, Alabama, Georgia and South Carolina. It also wants slavery reparations and a referendum for black Americans to determine "our political future."
As UC-Irvine's Gary Fouse writes, "This guy has the right to come at speak at UCI or any other school. But shame on the African Studies Department at UCI for choosing him as a speaker. And shame on them for their false and laudatory bio of this criminal."
Indeed. However, these days, one may view Odinga's invitation as not much of a head-scratcher.
After all, Odinga associate Kathy Boudin got a position at Columbia's School of Social Work after her prison stint, and at UC-Berkeley, students want a building named after Assata Shakur.
h/t Gary Fouse
RELATED: Berkeley Black Student Union: Name building after cop killer
Like The College Fix on Facebook / Follow us on Twitter
IMAGE: Daniel Kuhn/Flickr