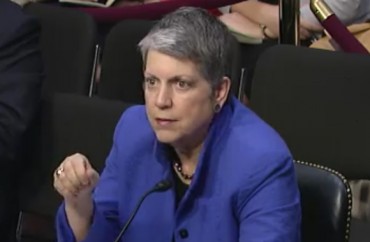 Her office told campuses not to 'air dirty laundry'
When Janet Napolitano's office was caught hiding a $175 million budget surplus from not just the public and Legislature but also the University of California's regents, the president of the UC System pointed to her good intentions: using the hidden money for "increased support for undocumented students and efforts to prevent sexual violence and sexual harassment."
The regents aren't buying it.
The Daily Californian reports they "admonished" Napolitano for approving the plan that led to "four specific acts that constituted interference" by her office in response to "confidential state auditor's surveys" sent to the 10 UC campuses.
Two officials who have since resigned, and Napolitano herself, communicated with each other on "how to respond to the surveys":
According to the report, [the UC Office of the President] directed UC campuses to have the survey responses reviewed and approved by each campus's respective chancellor and instructed the campuses to submit the survey responses to UCOP for review before submission to the state auditor.

UCOP then informed campuses that the survey responses were not the time to "air dirty laundry" and, after reviewing the responses submitted by the campuses, it requested that some campuses reconsider "Poor" or "Fair" ratings, the investigation found.
The president admitted to the first two acts of interference by virtue of her approving the plan, and told the regents she "made a serious error in judgment."
Her position is safe, however: Chair George Kieffer told the president "the board maintains confidence in Napolitano and supports her continued leadership."
MORE: Napolitano's office said its hidden money was reserved for fighting rape
IMAGE: Senate HELP Committee/YouTube
Like The College Fix on Facebook / Follow us on Twitter