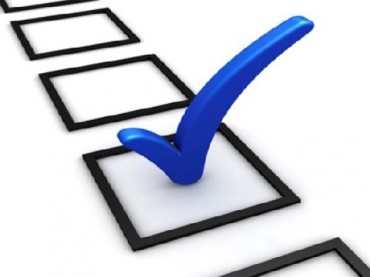 ANALYSIS
At UCLA, student fees and taxpayer money is used by the student government to push a progressive political agenda on the campus community during election time, an outright violation of university policy regarding political ethics.
So how do they get away with it? The undergraduate student government uses a technicality to all but endorse controversial liberal ballot measures. They also email students, encouraging them to vote on certain measures, stopping just short of saying: "Vote Yes!"
This situation is playing out now with Proposition 47, which proposes a major overhaul of the California criminal code that would reduce penalties for a wide variety of crimes. It's supported by many left-leaning activists.
Under university policy, the Undergraduate Student Association Council cannot tell students how to vote on ballot measures such as this, as the student government is funded by taxpayer dollars and student fees.
To get around this restriction, some student council members wrote up a resolution stating the student government "supports Proposition 47 on the November ballot," and the student government as a whole voted to pass the resolution Tuesday by a vote of 11 to 1. The one dissenter was Heather Rosen.
Because no one who opposes the measure would ever support the proposition on the November ballot, the resolution is mostly a euphemism designed to disguise endorsement as encouraging people to vote.
They essentially use semantics as a loophole to get around university policy regarding political ethics.
In addition to the resolution, student council President Devin Murphy sent out an email to the campus community with a small note at the end specifically encouraging students to vote on Proposition 47.
Although the email does not explicitly encourage students to support the measure, the resolution and the continual highlighting of Proposition 47 all but makes that message clear.
This is not the first time that the UCLA student government has used methods to circumvent the intended purpose of university policy.
In 2012, the council fully endorsed Proposition 30, a controversial tax increase used in part to fund the university. In that instance, the council again claimed that the endorsement was allowed, as long as they never outright told students to vote for the measure. That year, similar wording in resolutions and emails were employed by student politicians.
The email back then proclaimed, in bright red text, that "if Prop 30 fails, the Regents will likely consider a $2,400 tuition increase this year."
The statement, which is similar to the method Governor Brown used to ransom higher education to pass a tax increase, is a false choice that paints the entire situation as having only two solutions. Again, the council used student fee resources to send an email that presented slanted facts and a subtle push in the liberal direction.
Proposition 47, like 30, promises money toward higher education in exchange for certain tradeoffs. There is a strong coalition in support and in opposition to the resolution.
Yet, in both cases, UCLA's student government has downplayed the consequences of the proposition and used questionable methods to skirt university policy.
As a result, student fees are being used to push a progressive political agenda.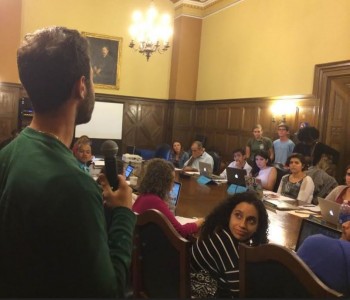 In response, the Bruin Republicans at UCLA launched a counter-campaign to educate students on the negative consequences Proposition 47, if passed, will have on California's criminal justice system.
(At right, William Chakar, former Bruin Republican president, speaks out against the USAC resolution during Tuesday's council meeting.)
The group aimed to educate peers on how the law will affect sentencing for stolen handgun possession, date rape drug possession and repeat offenders at a rally on Tuesday afternoon that also decried the misuse of their student fees.
They also sent representatives to voice opposition at the student government meeting Tuesday evening.
Political advocacy should be restrained within any public university's student government, because of the use of student fees and taxpayer dollars.
UCLA's Undergraduate Student Association Council has gone beyond its duties and chosen to misrepresent legitimate political arguments in efforts to encourage student voters to support controversial legislation. And the consequences for California's intellectual diversity are terrible.
College Fix contributor Jacob Kohlhepp is a student at UCLA and vice president of the Bruin Republicans.
Like The College Fix on Facebook / Follow us on Twitter