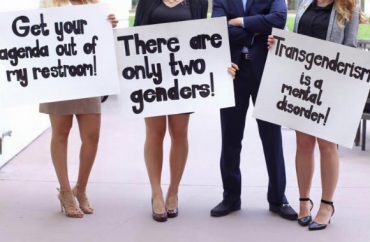 UPDATED
University's harassment code is 'unconstitutional'
Conservative writer Matt Walsh's lecture on transgenderism's threat to liberty at the University of California-Santa Barbara last week is having effects further down the coast.
The head of UCLA's undergraduate student government is using the power of her office to condemn some members of the campus Bruin Republicans (BR) club for showing their solidarity with the host of Walsh's lecture, Young Americans for Liberty (YAL) at UCSB.
The hubbub is over a photo of Haley Nieves, Victoria Metzel and Julia Nista holding signs that read "Get your agenda out of my restroom," "There are only two genders" and "Transgenderism is a mental disorder."
They are posing with Carlos Flores, president of YAL at UCSB and a fellow writer for The Bruin Standard, UCLA's "liberty minded newspaper."
RELATED: Here's the campus lecture criticizing transgenderism that led to 'safe place' for offended students
Nieves told The College Fix the three women have already sought legal help in the event UCLA does try to punish them under the student conduct code.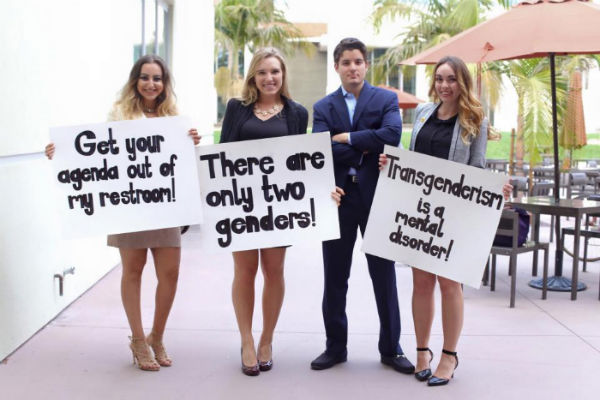 Violates 'True Bruin' values
Heather Rosen, president of the United Student Association Council (USAC), wrote on both her office's Facebook page and personal page that the BR members "must not" use their freedom of speech to promote "hate and discrimination."
The students' appearance in the photo "contradict[s] the very ideals of our institution," Rosen wrote. "Creating a culture of hate and disrespect does not foster a productive learning environment and is a detriment to the growth and development of our very own students."
RELATED: 'Unwanted jokes,' 'disparaging comments' sought under UC 'intolerance' reporting system
Their actions "are in complete opposition to our True Bruin Ideals of integrity and respect," Rosen wrote, referring to the university's official statement of "ethical standards."
Though the statement itself doesn't mention enforcement, "True Bruin" references are in the preface of the student conduct code.
Rosen told The Fix Thursday that despite her statement that the students "must not" use their speech to promote "hate and discrimination," and her reference to "True Bruin" values, she had no plans to personally file conduct-code charges against the three BR members. (Rosen said she can't file charges in her official capacity.)
She did not answer why she used the "True Bruin" phrase if she didn't intend to say the three students' behavior violated the code.
Jacob Kohlhepp, president of the Bruin Republicans, told The Fix in an email Thursday that Rosen called and messaged him "to let me know that she never meant" to imply the students should be punished: "She has specifically said to me that she never supported punishing people for expressing themselves." (Kohlhepp is also a contributor to The Fix.)
Heather Hordequin, USAC internal vice president, did not respond to an email query from The Fix.
The Queer Alliance at UCLA also released a statement condemning the "transphobic signage."
"People should not invoke free speech to justifying rhetoric that demeans a group, further marginalizes a group, and renders a group vulnerable to various forms of violence," it said.
The group promoted a "healing space" that was set up by the LGBT office at UCLA on Tuesday afternoon in response to the signs.

Tensions ahead of Yiannopoulos lecture in three weeks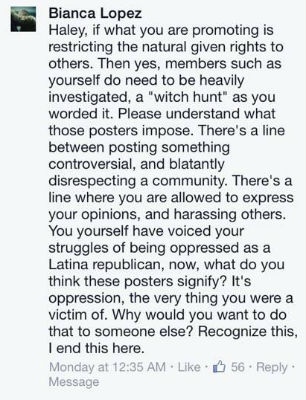 Nieves told The Fix in a phone interview that the photo was actually taken at UCSB the day Walsh spoke, and its purpose was to support Flores, not to antagonize anyone.
The students did it independently of the Bruin Republicans, which does not have an official stance on public bathroom use by transgender people, said Nieves, a member of the BR executive board.
"We neither endorse or condemn the positions laid out by our members in a recent viral Facebook post," the club wrote on its Facebook page, but it supports "their exercise of free speech, and we invite people who agree or disagree to come discuss it at future meetings."
RELATED: Calif. students now given six 'gender identity' choices on college admissions applications
Nieves said she has heard from at least one person who said she, Metzel and Nista should be "heavily investigated" by UCLA, but none of them has been formally contacted by UCLA about an investigation.
Tensions are already high on campus because the BRs are hosting Milo Yiannopoulos, the anti-feminist tech editor of Breitbart, at the end of the month, and some people want to shut down the event, Nieves said.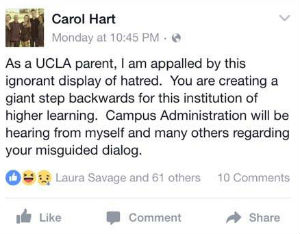 She noted one self-identified UCLA parent said she would be contacting the administration about the event. (Nieves herself posted on the event page that "several members of the [BR] board disagree with … the very premise of this event.")
Some students responded with vitriolic and misogynistic comments against the people in the photo; Nieves and Nista told Campus Reform they had both received death threats.
Not expecting to be punished, but ready to fight if so
As do many other schools, UCLA has a bias reporting system that includes both sexual orientation and gender identity as bias options.
Though Nieves said she has not heard of any threat to cut the BRs' funding from the student government, she called Rosen's comments an "entirely blatant attempt to censor minority and dissenting speech."
RELATED: Professor challenges UCLA diversity chancellor on efforts that chill free speech
On the off chance that the university does take action against the three students, Nieves told The Fix in a Facebook message they have already reached out to the Foundation for Individual Rights in Education for "legal help."
But she thinks it's unlikely at this point, almost a week after they posted the photo with Flores at UCSB.
Nieves said it would be "unconstitutional" if UCLA "attempted to censor our speech" or take action against them for the allegedly "'hateful' or discriminatory" content in the photo.
UCLA did not respond to requests for comment.
The university was challenged by one of its own professors earlier this year for encouraging students, staff and faculty to report "intolerance," including conduct such as "unwanted jokes" and "disparaging comments."
In contrast, the University of California System pared back previous plans to punish offensive speech, prompted by concerns about anti-Semitism on campus, in response to a backlash from groups that advocate free speech and academic freedom.
Its final approved "Principles Against Intolerance" only say that "anti-semitic forms of anti-Zionism" have no place on UC campuses, and its general counsel has claimed that the principles cannot be enforced against any member of the community.
UPDATE: USAC President Heather Rosen told The Fix Thursday she did not plan to file conduct-code charges against the BR members. BR President Jacob Kohlhepp also told The Fix that Rosen had assured him she didn't mean to imply they should be punished. The story has been amended to reflect this.
Like The College Fix on Facebook / Follow us on Twitter
RELATED: 'Anti-semitic forms of anti-Zionism' not welcome at University of California, regents say
IMAGES: Bruin Republicans, Facebook screenshots