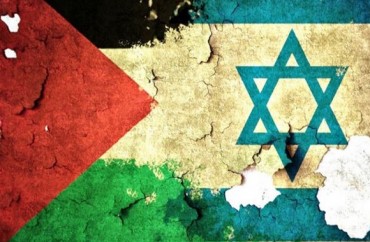 A coming conference at UCLA hosted by the Students for Justice in Palestine will focus on "resistance in the face of adversity," as well as "reframing" and "dismantling" Zionism.
This eighth annual SJP confab will take place on November 16 through 18.
According to The Algemeiner, in explaining the conference's goals the National SJP and its UCLA chapter defined Zionism as "ethnic cleansing, destruction, mass expulsion, apartheid, and death."
Event organizers will inform attendees that "Zionism is not an insurmountable force," and "is a human ideology and a set of laws that have been challenged and can be destroyed."
Zionism is typically defined as the "Jewish people's right to self-determination in their historic homeland" and remains a religious belief "central to the Jewish religion."
Participants will need to "work on reframing Zionism" as a concrete force "that can be broken down and dismantled," particularly through local campaigns with "clear targets."

Workshops at the event will enable students to pick up the skills necessary for coalition building, fundraising, and combating "normalization" — often defined as interactions between Palestinians and Israelis (and/or their supporters) that may include the legitimization of Zionism, even in the context of Israeli-Palestinian reconciliation work.

The conference will also help build "regional momentum" in the West Coast, as well as examine how successful divestment resolutions targeting Israel have recently been implemented in the UC system, in order to serve as a model for other SJP chapters.

These resolutions, a hallmark of SJP's work on campus, are part of the broader boycott, divestment, and sanctions (BDS) campaign against Israel and its supporters. The Palestinian-led movement describes itself as an effort "to isolate Israel academically, culturally, economically and militarily," in order to force the country to comply with international law. Critics accuse it of aiming to dismantle the Jewish state, a goal accepted by BDS co-founder Omar Barghouti, who has in the past rejected the notion that Jewish people have a right to self-determination by claiming that they are not a nation.
This past May, the Jewish group Students Supporting Israel blamed SJP and the Revolutionary Communist Party for using "racist and hateful tactics" during their disruption of the "Indigenous Peoples Unite" event. Activists "tore down Armenian and Israeli flags," trashed SSI materials and chanted slogans calling for the establishment of a Palestinian state in place of Israel, including "from the river to the sea, Palestine will be free."
MORE: Jewish students say they must oppose Israel or be marginalized
MORE: New tweets show Stanford RA called for Israel to be 'dismantled'
IMAGE: YouTube
Like The College Fix on Facebook / Follow us on Twitter