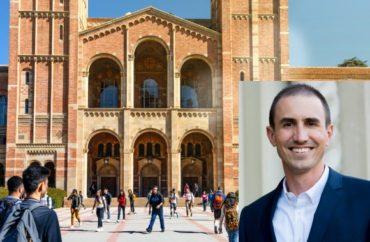 Dozens of graduate students opposed hiring a DEI-critical professor 
The University of California at Los Angeles recently refused a public records request regarding a scholar it declined to hire following an outcry over his opinions expressed elsewhere questioning the usefulness of diversity statements.
UCLA decided against hiring psychologist Yoel Inbar after more than 60 students signed a letter opposing his candidacy. Inbar (pictured) had reportedly been considered a near shoo-in due to applying alongside his girlfriend under a special relationship-hiring program.
The students had claimed that hiring Inbar "would threaten ongoing efforts to protect and uplift individuals of marginalized backgrounds."
The Foundation for Individual Rights and Expression put in a public records request seeking clarity on UCLA's decision-making process. UCLA refused.
"We've issued public records requests to UCLA, but they're withholding them, saying they're not in the public interest to release," Alex Morey, director of campus rights advocacy at the Foundation for Individual Rights and Expression, told The College Fix in an email.
"UCLA can't honestly argue that documents like its basic evaluation criteria are private," as universities frequently redact private information in document releases, Morey said.
"Public universities have to evaluate faculty using objective criteria and can't discriminate based on a professor's views," she said.
"But that's what we suspect UCLA may have done when it suddenly rejected Yoel Inbar just days after students complained about his past statements questioning whether DEI statements work as intended, " according to Morey.
"UCLA requested extensions on our [Freedom of Information Act] request in March and April, then rejected it altogether in May, saying the school 'concluded that the public interest favoring against unwarranted invasion of personal privacy outweighs the public interest in disclosure,'" FIRE tweeted June 28.
3/ UCLA requested extensions on our request in March and April, then rejected it altogether in May, saying the school "concluded that the public interest favoring [] against unwarranted invasion of personal privacy outweighs the public interest in disclosure."

— FIRE (@TheFIREorg) June 28, 2023
"At a public university bound to respect faculty's constitutional rights, the release of records showing whether UCLA is acting lawfully is certainly in the public interest," it stated.
"We requested a reconsideration this month, which the university immediately denied," the organization wrote. "We're submitting a second appeal and will be following this case closely until we figure out what's going on."
Inbar, an associate professor of psychology at the University of Toronto, "was up for a job [beginning this fall] at the University of California at Los Angeles," The Chronicle of Higher Education reported June 28.
However, in an open letter to UCLA, more than 60 psychology graduate students "strongly recommend[ed] against the hiring of Dr. Yoel Inbar as a tenured faculty in the Psychology Department."
"We feel that serious consideration of Dr. Inbar directly conflicts with the values and standards we uphold as an institution and department committed to Diversity, Equity, and Inclusion (DEI)," the students wrote to hiring committee members Benjamin Karney, Carolyn Parkinson, and Hal Hershfield.
The students objected to Inbar because he had expressed some skepticism on podcasts about using DEI statements, advocated institutional neutrality and allegedly violated etiquette with some minority students.
The first claim was based on two episodes on Inbar's podcast, "Two Psychologist Four Beers."
In Episode 15, the professor said that his "skepticism about [diversity statements] is that they seem like administrator value signaling."
Last year, in Episode 92 of the same podcast, Inbar expressed support for some forms of affirmative action while expressing skepticism against "this other stuff," which uses "certain methodologies based on critical theory."
In the 2022 episode, Inbar also discussed the Society for Personality and Social Psychology's oppositional stance to Georgia's decision to outlaw all abortions after six weeks following Dobbs v. Jackson last year, describing its position as "quite extreme" and proposing that "when we align ourselves with a political side or faction it's bad for our science."
The Fix emailed Inbar for comment, who apologized and said he was too swamped to respond. Inbar directed The Fix to his June 2023 interview regarding the incident on another podcast, "Very Bad Wizards."
In the June 27 episode "Free Yoel," Inbar explains, "you can pull out selective quotes [from my podcast] that make me sound like I'm a rabid anti-diversity statement person–which I'm really not."
"I do think it's really important to be able to teach to people of diverse backgrounds," Inbar said in the episode. "I'm not convinced–still–that diversity statements are a good way to actually measure whether somebody has been doing that."
Of his two-day visit to UCLA in January, "it felt like a recruiting visit," Inbar told the hosts of "Very Bad Wizards." He thought his meetings and research talk "all went quite well."
Inbar acknowledged, however, that during a "mandatory interview with two representatives of [UCLA's] diversity committee," a committee member brought up Inbar's alleged criticism of diversity statements.
Inbar told the hosts of "Very Bad Wizards" that he had not been prepared. He responded, "I think that the goals are good, but I don't know if the diversity statements necessarily accomplish the goals."
Even more, during the standard meeting with UCLA graduate students, one participant began talking about racism and issues in the psychology department in a way that Inbar found "strange" for a recruitment visit.
However, Inbar said he "flew home at the end of that two-day visit, thinking things had gone really well," he said on the podcast.
He "swapped some positive emails," with people at UCLA, "including the chair of the search committee," he said.
Inbar flew home on a Tuesday and by Thursday heard about the petition against him.
UCLA psychology department chair Annette Stanton called a standard ad hoc committee meeting to decide whether to recommend the hiring of Inbar or not, The Chronicle reported. The hiring committee decided against a recommendation.
The Fix emailed Karney, Parkinson, and Hershfield twice each, receiving no responses.
The Fix emailed the general UCLA media relations, UCLA director of media relations Eddie North-Hager, and UCLA senior media relations representative Holly Ober, asking what the pros and cons of diversity statements are, why UCLA did not hire Inbar, and how Inbar's hiring process compared to previous UCLA hiring processes. None responded.
MORE: UC Berkeley only hired professors who had enough DEI points: documents
IMAGE: UCLA, University of Toronto
Like The College Fix on Facebook / Follow us on Twitter