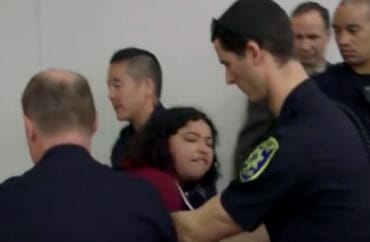 Secretary accused of perpetuating 'politics of fascism'
A talk given by secretary of the treasury Steve Mnuchin at the University of California, Los Angeles, last month was crashed by numerous student hecklers, many of who hissed at Mnuchin as he talked about sanctions and fiscal policy.
According to recently-released video, the hour-long event was besieged numerous times by activists and protesters, some of which attempted to shout the secretary down during his talk.
At least two protesters were forcibly removed by police after they began shouting and did not stop. One of the protesters claimed that the recently-passed tax reform bill "is sentencing people to death." Another called the tax bill "politics of cruelty" and "politics of fascism."
Most notably, at many times throughout the speech, Mnuchin was openly hissed at by protesters in attendance. The hissing can be clearly heard on video of the event.
At one point, Mnuchin was hissed when discussing "opportunity zones," a policy meant to "spur private investment in distressed communities throughout the country," according to the treasury's website.
"You don't want positive impact on communities?" Mnuchin asked the heckler. "Can we get a little feedback on why you don't like opportunity zones?"
The heckler was silent for a moment before responding: "I think you're bullshit."
"Okay," Mnuchin said as the crowd applauded.
Watch the whole video here, or below.
MORE: Student groups call scholar 'fascist,' but refuse to offer any evidence
IMAGE: YouTube
Like The College Fix on Facebook / Follow us on Twitter