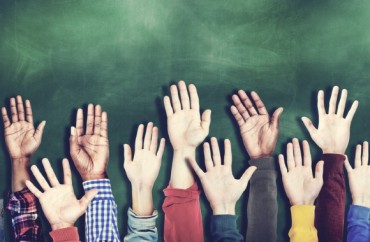 'The truth will set you free'
LOS ANGELES — A retired UCLA researcher fired for exposing bad science and unethical conduct by California regulators who eventually won a legal battle against the school recently spoke to a group of UCLA students, encouraging them to pursue and fight for truth no matter the hurdles they face.
Facing the room full of about 45 students, James Enstrom said he was never sure he would get support during his battle to expose climate pollution data fraud and then for his academic freedom rights against UCLA — yet it came.
He went on to quote two Bible verses. The first, John 8:32: "Ye shall know the truth and the truth will set you free." Enstrom said it inspires him because the truth "is what real scientists pursue."
"They pursue the truth whether it is politically correct or incorrect," he said. "That is how science advances. Any imitation or phony sciences is a destruction of real science."
His second Bible reference was that of the shepherd boy David defeating the giant Goliath with a sling.
"By knowing exactly where to aim the stone, you can do powerful things even though the odds against you are very high," Enstrom said.
Between 2005 and 2010, Enstrom worked to expose the faulty science behind onerous diesel regulations in California. The battle Enstrom underwent to not only expose that shoddy data – but also the worthless credentials of the study's lead author – led him to be fired from UCLA in 2011 after 34 years there.
Last year, he won a lengthy legal battle against the public university, which was forced to pay Enstrom $140,000, reinstate his title as "retired researcher," and restore his access to campus resources, "effectively" rescinding his termination there.
RELATED — VINDICATED: Researcher punished for exposing climate fraud beats UCLA
(His story is told in a news report by Reason he viewed with students prior to his speech … )
In his recent talk at UCLA, Enstrom criticized the environmental regulation complex, saying it has encouraged bad science and academic suppression.
He went on to state that although official reports list the ratio of liberals to conservatives at UCLA at around 5 to 1, the situation is much worse. When he looked at donations data, there is evidence that the ratio of Democrats to Republicans is "closer to 20 to 1."
Looking back on his career, Enstrom said "I spent most of my career in the closet, but then I was dealing with honest liberals." Today, administrators are more willing to suppress research that debunks climate change than ever before.
He said liberals have mounted a successful effort to "takeover … science." And more threats remain.
For example, the current frontrunner in the election for the National Academy of the Sciences top leader, Marcia McNutt, is a repeat offender when it comes to suppression of academic dissent. Yet McNutt is expected to be elected unopposed. Her accession has been marked as a historic moment because she would be the first woman to lead the academy.
Enstrom has a different take. McNutt, he claims, rejected a paper he and his colleagues submitted to Science without even reading the evidence. The reason: his paper disagreed with a seminal article published in Science 60 years ago that claimed the effects of pollution increase linearly with the amount of pollution people are exposed to, which laid the ground work for the reasoning behind current emissions regulations.
Because the academy influences grant decisions, this type of suppression is "very concerning," he said.
Enstrom is not alone.
National Association of Scholars President Peter Wood pointed out of her record: "Dr. McNutt has in her career found herself faced more than once with the challenge of what to do when an entrenched orthodoxy meets a substantial scientific challenge. The challenge in each case could itself prove to be mistaken, but it met what most scientists would concede to be the threshold criteria to deserve a serious hearing. Yet in each case Dr. McNutt chose to reinforce the orthodoxy by shutting the door on the challenge."
At the end of his talk, Enstrom encouraged students, especially science majors, to keep their eyes open for infringement of academic freedom. He also said students should email Susan Wessler, a professor at UC Riverside who is in charge of administrating the election of the new president of the National Academy of the Sciences, to voice their concern over McNutt's nomination.
"She is not a professor here," he told the UCLA students, "so she cannot do anything against you."
Enstrom's talk was sponsored by Bruin Republicans at UCLA.
RELATED: UNC philosophy professor warns: 'Progressive privilege' abounds in academia
Like The College Fix on Facebook / Follow us on Twitter