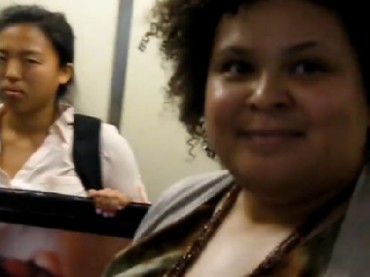 Prolifers who display graphic images of aborted fetuses to tout their message are like "domestic terrorists" who invade communities and make women feel unsafe, said a UCSB student and active supporter of a feminist studies professor recently charged with battery after an altercation with prolife demonstrators at the university.
"They are domestic terrorists, because the definition of a terrorist is someone who terrorizes," said UCSB sophomore Katherine Wehler, a theater and feminist studies major, in an interview with The College Fix.
"That's exactly what those girls were doing," she said of young prolife demonstrators on campus who are at the center of the controversy. "They were making us feel very unsafe on our campus outside one of the busiest places during the busiest week of the quarter."
Wehler is among a large contingent of students who have come out in support of the professor, while other students have condemned the educator's actions.
Early last month, feminist studies Professor Mireille Miller-Young led a small mob of students against pro-life demonstrators holding graphic signs. The mob chanted "take down the sign," then Miller-Young and two students grabbed one of the signs and ran off with it, eventually engaging in a physical altercation with one of the 16-year-old demonstrators who tried to retrieve the stolen sign.
Miller-Young has been charged with misdemeanor theft, vandalism, and battery, and recently pleaded not guilty.
The incident has made national headlines and divided the UCSB community, with dueling petitions launched in support and against Miller-Young. But the petition in support of the feminist studies professor has gained significantly more signatures – nearly 2,000 compared to about 150 signatures.
Wehler, who has taken a class taught by Miller-Young, said she feels strongly the educator did the right thing because the pro-life activists made the campus uncomfortable for students.
"The last thing we need are these people invading our community," she said.
Students stand in solidarity with Miller-Young because they feel there should have been "trigger warnings" for the images the pro-life activists presented in the free-speech zone.
"I have a lot of feminist friends that went to them [pro-life protesters] with an educated academic response, because they were extremely triggered by these images, and the activists were saying this is for 'women's rights,'" Wehler said. "As feminist scholars and activists, we were insulted to hear that their cause is for women's rights, because we felt personally attacked as women. Then, we were repeatedly called murderers. That is not okay."
"In my opinion," she added, "Professor Miller-Young would never attack anyone as the media suggests unless feeling an invasion of her own personal space like anyone else would in a fight or flight situation. … If the university did decide to revoke her employment, there would be a large uproar because she is so celebrated."
However, not everyone feels that way.
The petition calling for Miller-Young's termination says: "This is about someone who violated the law in several ways, disregarded the idea of freedom of speech, and tarnished the image of the UCSB."
"Please know that this is not to show support for Pro-Life. This is to show support for our freedom of speech, our laws, and justice."
Katie Devlin, a student at UCSB who does not support Miller-Young's behavior, said she sees hypocrisy involved in the petition supporting Miller-Young. 
"They talk about prioritizing the safety of our campus involving activists, yet it's our professor that attacks somebody," Devlin said in an interview with The College Fix. "I think it's just the contrast that she is a feminist professor and stands for protecting women, yet she attacks a young girl."
College Fix contributor Austin Yack is a student at UCSB.
Like The College Fix on Facebook / Follow us on Twitter
IMAGE: YouTube screenshot
Like The College Fix on Facebook / Follow us on Twitter