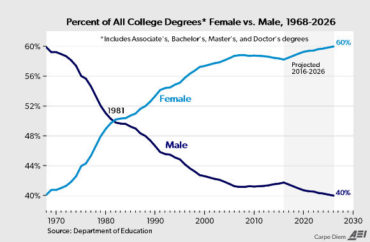 Refuted by official government data
A year ago we told you about the "diversity statements" that public universities were requiring applicants to complete in order to be considered for faculty hiring and promotions.
They include the University of California System. A spokesperson for UC-San Diego justified them at the time by saying the mandatory statements were intended to identify candidates who can "enhance campus diversity and equity efforts."
Evidently they don't include Stephen Bainbridge, a "distinguished" professor at law at UCLA, who noted he's not even close to meeting UCSD requirements in a blog post titled "I probably couldn't get a job as an academic these days."
The "contributions to diversity statement" requires applicants to describe their past and future efforts "to advance equity, diversity and inclusion," with greater weight given to past efforts:
 It should also demonstrate an understanding of the barriers facing women and underrepresented minorities and of UC San Diego's mission to meet the educational needs of our diverse student population.
Bainbridge writes:
I suspect "none" would not be an acceptable answer. I also expect a detailed discussion of how one has tried to promote intellectual diversity within the academy by resisting the left-liberal hegemony would be even less acceptable. Just as well I'm not trying to get a job at UCSD.
MORE: Professor files civil-rights complaint against women-only lounge
Economist Mark Perry at the University of Michigan-Flint points to some UCSD-approved examples of what he calls "Ideological Conformity Statements/Pledge of Allegiance to Left-Liberal Orthodoxy Statements."
A frequent agitator when it comes to calling out universities for excluding men from common spaces and professional considerations, Perry also brings Department of Education data to bear on UCSD's claim that women face "barriers" in higher education:
[M]en have been an under-represented group (URG) in higher education for nearly 40 years now going back to 1982, and … male under-representation is expected to increase in the future. According to projections by the Department of Education, there will be 150 women earning college degrees for every 100 men within the next decade. So at least in terms of entering and completing college with a degree there really don't appear to be any "barriers facing women" in higher education today, they've earned a majority of college degrees for more than a generation.
He highlights the "highly selective concern" about gender underrepresentation, which ignores the fact that men are underrepresented in higher ed and the "gender college degree gap" is growing.
Just make sure to go along with the fiction that women face "barriers" if you want to work in the UC System.
Read the Bainbridge and Perry posts.
MORE: Public university admits it's illegal to block men, whites from faculty awards
MORE: College bans men from gym so 'people of other genders feel safe'
IMAGE: Carpe Diem/American Enterprise Institute
Like The College Fix on Facebook / Follow us on Twitter