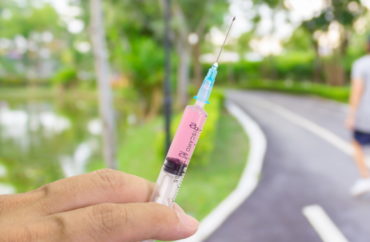 A new way to protest those who are concerned with the ramifications of so-called gender affirming care is to inject hormone replacement drugs intravenously out in the open in what is being called an "inject in."
On Friday, students and trans activists at the University of Florida hosted an "inject in" to protest Republican Gov. Ron DeSantis' crackdown of public universities' funding of sex-change therapies and current legislation under consideration in the state that would curb gender reassignment procedures.
"'F-ck DeSantis' the crowd roared in unison as they passed the Chick-fil-A at The Hub," the Alligator student newspaper reported. "… During the inject-in, demonstrators stayed silent as each participant injected HRT. The crowd burst with applause and cheers once the participants finished and disposed of their supplies in a box attached to a cardboard cutout of DeSantis."
One first-hand account by a protest participant on One Queer Librarian stated:
We marched from the corner of campus into the heart of campus to the student health center. In front of the health center we set up and had several speakers, and then those who felt moved to it went up front and injected their hormones all together. It was really lovely, and although I forgot to bring my T with me so I couldn't participate, I was incredibly proud of all these brave young folks. They are fighting the good fight, and I'm glad to stand beside them, because soon enough the state will be coming after my hormones too.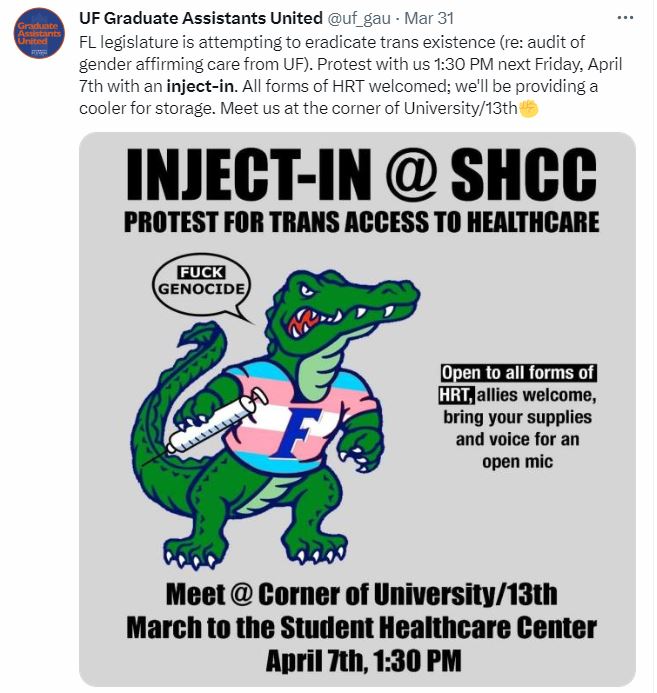 The Alligator student newspaper reported:
Gov. Ron DeSantis' Jan. 18 audit mandated Florida public universities report the number of patients receiving different forms of gender-affirming care through UF Health facilities starting from Jan. 1, 2018. The audit reported a steady increase of gender-affirming care patients through UF Health.

HB 1421 seeks to ban gender-affirming care for minors, prohibit the use of private insurance coverage for the treatment and bar a person's biological sex from being changed on their birth certificate.

SB 254 would criminalize parents and doctors who provide minors with gender-affirming care and grant the state the ability to claim jurisdiction over children who have parents that allow them to receive gender-affirming care treatment. The bill would also ban the use of public funds to subsidize gender-affirming care through state-funded entities.
A student journalist who covered the protest tweeted that the crowd also chanted "no justice, no peace" as they held signs and waved pink and blue flags. One participant reportedly said "we will not allow the state to exterminate us."
Protestors have arrived at the UF Student Health Care Center for an "inject-in" in protest of legislative attacks on gender-affirming care in Florida. @TheAlligator

"No justice, no peace," the crowd chanted as they marched toward the building. pic.twitter.com/ieBDnWSAQj

— Amanda Friedman (@amandasfriedman) April 7, 2023
"The crowd cheered and applauded as participants finished administering their hormone replacement treatments," the student journalist tweeted. "Participants disposed of their supplies in a box attached to a cardboard cutout of Gov. Ron DeSantis."
MORE: Riley Gaines: 'ambushed, 'physically hit twice by a man' while defending women's sports at SFSU
IMAGE: Gundam Ai / Shutterstock
Like The College Fix on Facebook / Follow us on Twitter