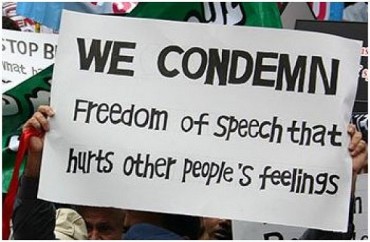 If you want to know just how important the First Amendment is, not to mention the fact that President Trump got an additional conservative on the Supreme Court to support it, check out what transpired recently at the University of Massachusetts.
The Student Government Association's finance chair, Prabhu Rajkumar, came under fire for allegedly "racially charged" tweets, with some of his peers calling for his ouster.
Here's some of what he said:
— In response to a tweet that called DREAMers "Americans, period," Rajkumar wrote "No, they're not, they broke the law to enter and are an insult to those who legally entered such as myself."
— Replying to a pro-Colin Kaepernick tweet which said the former NFL quarterback was "ahead of his time," Rajkumar tweeted "It's just good PR to sign him now compared to bad PR before … it's all about the money."
— Rajkumar replied to a typical Alexandria Ocasio-Cortez tweet with "Pulling the racism or sexism card every time you get criticized is exactly how you degrade the quality of political discourse in this nation."
These statements led a double "studies" major, Zach Steward, and Lily Tang, a poli-sci major with a "studies" concentration, to pen a letter calling for Rajkumar to be canned from his SGA position. The reason? "[Their] dollars should go towards supporting individuals who are committed to racial justice and equity …"

The pair also wanted "regularly scheduled anti-racism training" for all SGA members.
Steward later acted surprised that some SGA members actually supported Rajkumar … despite disagreeing with his comments.
Consider: Mr. Steward managed to get into one of the top 100 schools in the country, let alone that school's student government, and a prime facet of the First Amendment befuddles him.
At a November 18 SGA meeting, Speaker Julia Fox noted that there was discussion of having Rajkumar apologize, and that the SGA executive and legislative branches would get together to discuss "more immediate steps [to] take" on the matter.
SGA Secretary of Diversity Carla Montilla expressed her displeasure with the whole situation, saying it was time for white students "to put in the work": "I will not let this organization use the trauma of students of color to make themselves feel better," she said.
Montilla continued: "I don't want to hear anyone say that we're anti-racist again until we actually mean it."
Keep in mind that Rajkumar's tweets are totally within the political mainstream. That he should be sanctioned in any way for these opinions is a gross affront to freedom of speech. If any training should be implemented by the SGA, it should be a refresher on basic civics … and Steward, Tang and Montilla should be the first in line.
MORE: Post-election: The academic bubble wants GOPers held accountable
MORE: The academy continues its political shaming
IMAGE: Sam Graham / Flickr.com
Like The College Fix on Facebook / Follow us on Twitter