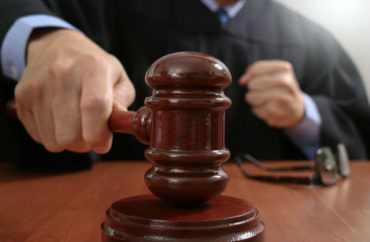 You want our permission to 'set up a kangaroo court'?
One of President Trump's appellate court nominees is yet again positioning himself to be front and center defending the due process rights of college students.
In a hearing earlier this month, Judge Amul Thapar reprised his role on the 6th U.S. Circuit Court of Appeals as the most vocal critic of university practices that deprive accused students of basic fairness in Title IX adjudications.
Thapar was part of a three-judge panel that heard arguments from the University of Michigan and a student who sued the taxpayer-funded institution for reversing its decision to clear him of sexual-assault allegations after his accuser appealed.
One of the issues was the university's decision to allow cross-examination in every kind of misconduct proceeding except Title IX cases.
When Thapar made Trump's Supreme Court shortlist this summer, due-process advocates recognized the name because the judge was part of a panel last fall that ruled colleges must allow some form of cross-examination in he-said, she-said sexual-misconduct cases.
Months after that, Thapar grilled a university lawyer for suggesting colleges could prejudge males accused of sexual assault to protect female students.
The University of Michigan's lawyer didn't get any easier treatment from Thapar (below) at the Aug. 1 hearing. The judge even suggested that lawyer David DeBruin was arguing for the university's right to "set up a kangaroo court" in all adjudications, not just Title IX proceedings.
MORE: 6th Circuit says cross-examination required in campus rape cases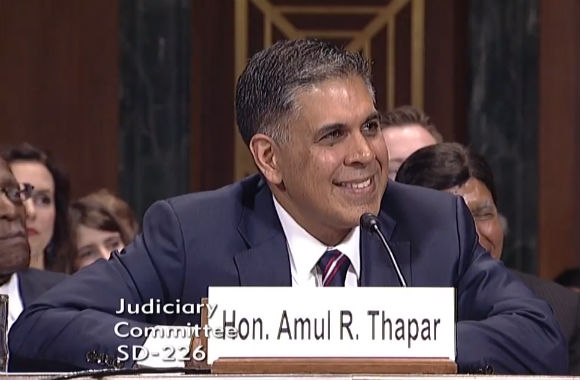 Double jeopardy lets appeals panel reject 'fair and thorough' investigation
"John Doe" had alleged that UMich violated his right to due process in the appeals hearing, and used an "unconstitutionally vague" definition of the term "incapacitated," according to U.S. District Judge David Lawson's ruling dismissing Doe's case last year.
He was accused of sexual assault by a female student who claimed he manipulated her into performing oral sex on him at a party in January 2016 when she was too intoxicated to consent.
Investigator Christina Kline of the university's Office of Institutional Equity determined, after interviewing 23 witnesses, that there was "insufficient evidence" to back the accuser's claims that she was incapacitated.
Kline also determined that evidence didn't corroborate the accuser's claim that Doe coerced her into unwanted sexual activity. The evidence standard was "preponderance," also known as "more likely than not," which was mandated by the Obama administration. (A year and a half later, the Trump administration rescinded this mandate and let schools choose between preponderance and a higher standard, "clear and convincing.")
Unsatisfied with the ruling, and empowered by a university system that permitted double jeopardy in sexual-misconduct cases, Doe's accuser appealed Doe's exoneration.
UMich's Office of Student Conflict Resolution can "engage in a limited scope review of sexual assault complaints resolved by the OIE." It handed down a decision in May 2016 that called Kline's investigation "fair and thorough" but disagreed with its conclusions.
MORE: Thapar grills university over 'future of 1000 girls' remark
The review panel reversed the finding and concluded that Doe had in fact violated the student conduct standards on sexual misconduct.
Doe claimed the appeal panel violated the school's own standard of review by conducting a "de novo" review of Kline's decision, instead of using the required standard of "clearly erroneous."
He also claimed David Baum (left), one of the appellate panelists and a named defendant in the lawsuit, had a conflict of interest because of his personal relationship with a partner in the firm that represented Doe's accuser.
The panel exhibited gender bias against Doe and "selectively considered only evidence that supported their reversal" of Kline's findings while ignoring exculpatory evidence that Kline had cited, Doe also claimed.
Lawson's ruling was ripe for review because he judged that "procedural deprivations were irrelevant" in light of his belief that Doe was guilty, according to a summary of the case by Brooklyn College Prof. KC Johnson, co-author of The Campus Rape Frenzy.
UMich is disregarding 'everything courts have ever said' about cross-examination
In a contentious exchange with UMich attorney DeBruin, Thapar and Judge Julia Gibbons cast doubt on the university's process of investigation that included no opportunity for cross-examination.
UMich gives students in Title IX cases what is known as a "paper hearing." This means that each party can request their questions to be asked of the other through the investigator, rather than directly. The investigator has the discretion to not ask or modify their questions in interviews with each party, though.
Thapar continually referenced the 6th Circuit ruling from last year in which he participated, where a University of Cincinnati student was denied cross-examination. Judge Gibbons, an appointee of President George W. Bush, expressed alarm at the university's decisionmaking process: "Making findings based on interviews is not what I think of when I think of a hearing."
DeBruin responded by saying that the paper hearing was superior to a "traditional hearing," because a live hearing with all relevant parties present would be "less thorough."
Thapar immediately took issue with this, accusing DeBruin and UMich of disregarding "everything courts have ever said, including the United States Supreme Court, about cross-examination."
In the Cincinnati case, the 6th Circuit sided with the accused student. The opinion by another Bush appointee, Judge Richard Griffin, said the "defendants' failure to provide any form of confrontation of the accuser made the proceeding against John Doe fundamentally unfair."
Thapar continually suggested in the UMich hearing that the case was in the same vein as the Cincinnati decision.
When DeBruin said Cincinnati must be viewed together with an earlier 6th Circuit precedent, known as Newsome, that said cross-examination "is not required when the adjudicator does meet with the witnesses," Thapar shot back.
DeBruin is essentially arguing that universities can claim "we gave it all the process that's due" by finding students not responsible and then having "an appellate panel sanction students all the time," Thapar told the lawyer.
"They can do it in race cases, they can do it in drug cases, they can do it in misconduct cases," he continued. "And you're saying you're going to come to court and say 'trust us, judges,'" because the students were initially found not responsible "'and then we reverse it and kick them out anyway.'"
MORE: Thapar is on Trump's Supreme Court shortlist
IMAGES: everything possible/Shutterstock, Senator Ben Sasse/YouTube, University of Michigan
Like The College Fix on Facebook / Follow us on Twitter