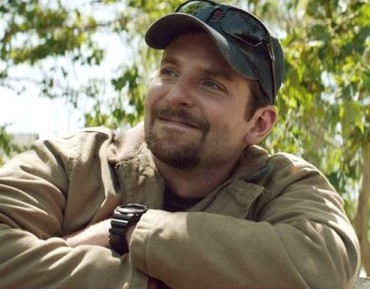 Movie screened under police presence, talks from campus 'Bias Response Team' officials
ANN ARBOR, Mich. – University of Michigan students thronged to the campus union on Friday night for the weekly UMix Late Night, which featured the anticipated and controversial screening of "American Sniper."
The 150-seat multipurpose room was nearly packed to capacity, and during the movie, the atmosphere inside the room felt tense. One female student left the room in tears about five minutes after the film began. But the crowd launched into appreciative applause as the credits rolled. No protest of the film materialized Friday. 
The screening had initially been canceled earlier this week by campus officials after some students complained the film was anti-Muslim. But it was ultimately rescheduled after a nationwide backlash.
With that, there was an unprecedented amount of controversy at the showing. Police cars were stationed outside the steps of the Michigan Union, lights flashing. Channel 7 News and Detroit News were present.
(At right, 'American Sniper' is shown to students at the University of Michigan)
Members of the university's "Bias Response Team" – a group of professional staff within Student Life that focuses on the response and management of bias incidents involving students – gave a talk before the movie began, asking students in the audience to "give respect and expect respect."
Their comments echoed a mass email sent to the campus community by the Dean of Students Laura Jones earlier Friday stating that "all students are entitled to feel safe on our campus, including our Muslim or Middle Eastern and North African students."
The email also reminded students how they could report "bias incidents," as well as listed the contact information for the Office for Institutional Equity and the U-M Police Department. The email also gave the location of the Office of Multi-Ethnic Student Affairs and information about the school's Counseling and Psychological Services.
"It is essential that the community we create for each other on our campus be safe and welcoming to all students of all backgrounds and all beliefs," Dr. Jones' email stated. "The very nature of this being a university community means we stand together in support of our freedom of expression, our right of free speech and the expectations that disagreements will be handled with civility, respect and an open mind."
During the movie, employees of the Bias Response Team stood by to quell any anxieties.
The weekly UMix Late Night event is hosted by the Center for Campus Involvement and is meant to be a "series of fun, late night actives and events for University of Michigan students between 10 p.m. and ­2 a.m. most Friday nights."
Last night's program involved Build­A­Bear activities, massages, bingo, karaoke, DYO picture frames, inflatable laser tag, and an Asian food buffet.
An alternative movie, "Paddington," which features an animated stuffed animal, had been offered to students Friday night as well. Seven students attended that showing.
The controversy surrounding "American Sniper" began Tuesday, after a collective letter by the Muslim Students Association and the Palestinian solidarity group Students Allied for Freedom and Equality had called on the university to cancel the screening, claiming the film "not only tolerates but promotes anti-Muslim … rhetoric and sympathizes with a mass killer" and that "the University of Michigan should not participate in further perpetuating these negative and misleading stereotypes."
When the university decided to cancel the screening, that decision was met with another petition from Young Americans for Freedom defending the movie and calling for it to be shown; that effort netted 600 signatures of support.
Following pressure from donors and an emphatic Tweet from football Coach Jim Harbaugh, the university ultimately reversed its decision.
Michigan Football will watch "American Sniper"! Proud of Chris Kyle & Proud to be an American & if that offends anybody then so be it!

— Coach Harbaugh (@CoachJim4UM) April 9, 2015
Meanwhile, students have a spectrum of perspectives on the film and whether or not it should have been shown.
Junior Sayan Saha, studying physics, warned that Chris Kyle could be judged unfairly for his inflammatory rhetoric against his Iraqi enemies.
"When you're out fighting and your friends are dying, I think you're allowed to be less politically correct," he told The College Fix.
Sulaymaan Suhrawardy, a junior in the School of Architecture, said the movie reinforces "the ideas that people have of an us vs. them."
"Sometimes we don't look back and ask ourselves what went wrong, we blame the other," he said in an interview. "And I actually don't mind the movie being played on campus, because I, like my university, value free speech. Nonetheless, a happy, fun event like UMix isn't the right time or place to play American Sniper."
College Fix reporter Omar Mahmood is a student at the University of Michigan.
Like The College Fix on Facebook / Follow us on Twitter