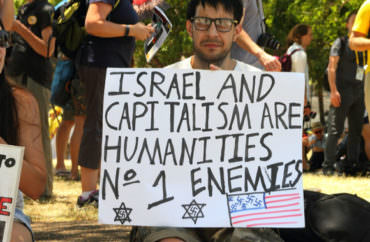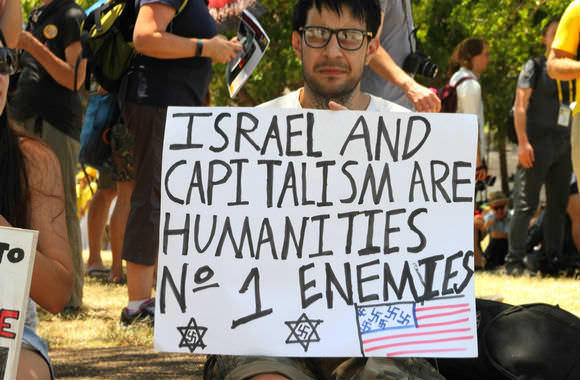 After 10 consecutive failures to approve a boycott, sanction and divestment resolution, the University of Michigan's Central Student Government finally prevailed in its longtime quest to make a gesture with no effect.
Last night's motion to divest from three companies that "violate Palestinian human rights" in their business with Israel passed 23 to 17, with five abstentions, after a record-breaking eight-hour meeting, MLive reports.
The failed BDS votes go back to 2002, and last year's tally was 34 against to 13 in favor. This year's resolution was brought forth by Students Allied for Freedom and Equality, which has only been active since 2014:
With a near-capacity crowd of around 400 in attendance, Palestinian students and supporters of the SAFE resolution erupted in applause, embracing one another, while others broke into tears to conclude an emotional evening that began at 7:30 p.m. Tuesday, when the resolution passed at around 3 a.m. Wednesday.
The administration gently told the overjoyed students their demand would be ignored because the point of its endowment investments is generating income.
A spokesperson said the university promises its donors to invest "with the goal of providing the most resources possible for the purpose they agreed to support."
MORE: Anti-Semitic flyers go up after Berkeley restores 'settler' course
But it's given anti-Israel activists reason to be hopeful in the past. According to MLive, the university divested from South Africa in 1978 and from the tobacco industry in 2000.
Nothing has apparently happened since the student government approved a similar resolution in 2015, asking the university to create an "ad hoc committee to investigate endowment investments in the fossil fuel industry."
Pro-Israel group StandWithUs denounced the vote as a "campaign of hate" that directs "dehumanizing hate speech against Jews and Israelis," noting an op-ed in Michigan Daily compared Israel and its supporters to "white supremacists."
Max Samarov, executive director of research and campus strategy, said it was "deeply racist" to equate "Jewish liberation with one of the most anti-Semitic ideologies in existence."
Read the article.
MORE: Anti-Israel resolution fails 10th straight time at UMich
IMAGE: paintings/Shutterstock
Like The College Fix on Facebook / Follow us on Twitter