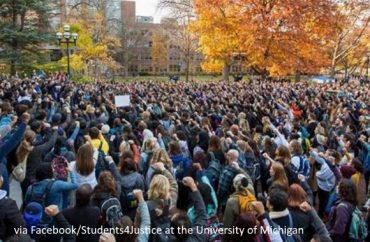 UPDATED
A student activist group at the University of Michigan is demanding campus officials provide them with "a permanent designated space on central campus for Black students and students of color to organize and do social justice work."
The demand is one of several lodged by "Students4Justice," who this month ratcheted up campus demonstrations to pressure administrators to cave, complaining in a newly launched petition that President Mark Schlissel has snubbed their demands.
The clamor for a segregated space for students of color to organize social justice efforts comes even as the public university builds a $10 million center for black students and others in the center of campus.
The new center is considered a "multicultural" one open to all students, but is under construction at the behest of a student group called Being Black at the University of Michigan, whose members complained that black students are marginalized because the original multicultural center they use is located on the outskirts of campus.
In their demands, students explain why the new multicultural student center is not enough, "because we want a space solely dedicated to community organizing and social justice work specifically for people of color."
"We want documentation of past, current, and future student activism and this should be a permanent space that is staffed, and has resources for students to organize and share resources," the demand letter states.
Leaders of "Students4Justice" did not respond to requests from The College Fix seeking comment. Campus spokesman Rick Fitzgerald told The Fix that at "this point, our colleagues in Student Life have been working with the Students4Justice leaders to better understand their concerns. This is our normal process."
The demands caught the attention of the Michigan Review, an independent student news outlet which first reported on the issue — and criticized it.
"The same organization that criticizes the University for failing to create 'an environment that engages in diversity, equity and inclusion,' is calling upon the University to undermine these ideals by facilitating a sort of de facto segregation? One where space and resources are designated for students based solely on the color of their skin?" the Review wrote.
"To advocate for the ideals of diversity, equity and inclusion, while simultaneously calling upon the University to sanction these spaces on campus is both unprincipled and laughably regressive," it added.
The demands were first presented last fall, but an updated version was refiled with administrators in late January after a series of incidents deemed racist, according to the demand letter.
This list of demands also call for more support for "marginalized" students "when oppressive attacks occur," increasing the affirmative action of "Black, Arab, and other PoC" in tenured faculty, more readily alerting students on campus of "bias incidents," and offering more financial aid for those of lower socioeconomic status.
Students4Justice bemoan what they perceive as a lack of action from campus leadership to these demands. In addition to the petition, earlier this month they held a sit-in, as well as a silent protest when prospective students visited campus.
"Our president has blatantly ignored us and it is time for us to speak up. We have been told that our demands are 'rude,'" the group states on Facebook in announcing its petition. "We are calling on someone to care about students' concerns and to lead us with integrity and help us fight against the oppression and hateful acts that try to destroy us and our community."
Editor's Note: An update to this article clarifies that the new student center under construction is not only for black students, but is a "multicultural" one open to all students. 
MORE: Black students demand segregated spaces from white students
Like The College Fix on Facebook / Follow us on Twitter