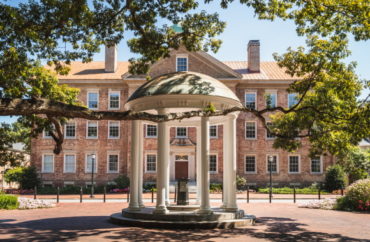 But several other university programs closed to white male students remain a concern, watchdog says
The University of North Carolina Chapel Hill recently amended an academic program to accept applicants of all races as the result of a civil rights complaint.
Initially the Fellowship for Exploring Research in Nutrition program, or FERN, was only open to undergrads "from Black, Indigenous, and People of Color (BIPOC) populations."
However, after the complaint was filed by the watchdog group Do No Harm, university officials amended the application to eliminate any wording about the race of applicants.
"Within 24 hours of receiving the courtesy copy of my complaint, UNC scrubbed the website and changed the eligibility requirements to be more 'inclusive,'" Mark Perry, University of Michigan Flint emeritus professor and a senior fellow at Do No Harm, told The College Fix via email March 6.
Perry said he was alerted of the FERN program by an anonymous whistleblower who regularly provides him with tips.
Meanwhile, there are other complaints Perry has recently filed with the Office for Civil Rights against UNC Chapel Hill alleging violations of Title VI and Title IX of the Civil Rights Act that he said the university has yet to address.
Title VI of the Civil Rights Act "prohibits discrimination on the basis of race, color, or national origin in any program or activity that receives federal funds or other federal financial assistance," according to the U.S. Department of Health and Human Services.
Perry also filed complaints against UNC Chapel Hill's Light on the Hill Society Scholarship program, the Julius Peppers Endowed Scholarship Fund, and the Joseph Cooley High and Kathleen Cullins High Endowed Scholarship because he said they are only open to black students.
As for Title IX, which prohibits discrimination based on gender, Perry filed a complaint against the Well-Being Initiative for Women Faculty of Color to Promote Professional Advancement in Pharmacy and Pharmaceutical Sciences Research, which excludes students based on gender and race, he said.
According to Perry, the university's "Scholarship Resources" website also features a filter option in which students can search by "Identity Group" to find scholarships based on race, gender and sexual orientation. He argues the filter violates both Title VI and Title IX.
A spokesperson for the UNC Chapel Hill media relations division did not respond to a request from The College Fix seeking comment.
According to Perry, there are many other schools that have illegal single-sex or single race programs, scholarships, fellowships, awards and internships. Perry said he has now filed 785 complaints against colleges and universities for more than 2,000 violations of Title VI, Title IX or both.
"Unfortunately, higher education routinely violates their legal obligation to enforce federal civil rights laws," Perry told The Fix. "Either because they are inexcusably unaware they are illegally discriminating, or they are inexcusably unconcerned about violating the civil rights of certain groups of students."
Based on those complaints, the Office for Civil Rights has opened 350 federal civil rights investigations and 300 of those investigations have been resolved, Perry said.
Do No Harm describes itself as a diverse group of healthcare providers and professionals who believe every patient deserves access to the best possible healthcare, but "the radical ideology of 'anti-racism' is creating new barriers and bad practices that are endangering the health and well-being of everyone – including the people it claims to help."
MORE: Oregon university faces civil rights complaint for excluding whites from campus events
IMAGE: Gurezende / Shutterstock
Like The College Fix on Facebook / Follow us on Twitter