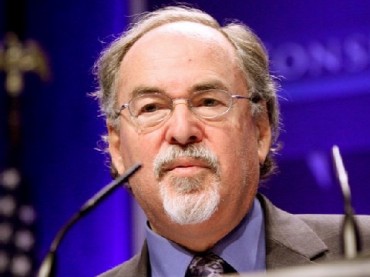 Conservative firebrand David Horowitz reportedly said during a recent speech at the University of North Carolina that members of Muslim students associations have been linked with terrorism, prompting a massive backlash among Muslim students, who say his assertion is not only false but made them feel unsafe.
The uproar is so intense that throughout the week the hashtag #NotSafeUNC gained ground and a "Not Safe UNC" Tumblr page was created to chronicle alleged bias against Muslims at UNC and the region. The UNC College Republicans are also taking heat for inviting Horowitz to speak. In an email, College Republican Chairman Frank Pray said he is receiving a lot of hate mail.
Horowitz spoke Monday at the behest of the UNC College Republicans in a talk dubbed "The Anti-Israel Jihad." During his speech, he commented that "the goal of SJP, the MSA and the Muslim Brotherhood, Hamas and Fatah, and Iran and Hezbollah is to kill the Jews, to push them into the sea," according to the Daily Tar Heel campus newspaper.
"He argued that activists who claim to be defending the human rights of Palestinians are really attempting to erode support for Israel," the Tar Heel added. "He believes these activists are persuaded by Muslims and the Arab states surrounding Israel to attack the Jewish state, saying that, 'Arabs are racists.' " 
It is unclear what additional comments he made – a recording of the talk has yet to surface – but apparently many in the audience interpreted his comments to suggest that Muslim Student Associations and similar groups in general, and in particular the ones at UNC, have been linked to terror organizations.
The UNC student body president weighed in, saying in a letter to the editor of The Daily Tar Heel that "as much as I respect and uphold the right of all students and outside speakers to freely express their views on this campus, I fully reject the claims made by David Horowitz on April 13 that suggested that the UNC Muslim Students' Association and UNC Students for Justice in Palestine are connected to terrorist organizations. These accusations are harmful not only to members of these organizations but also to our community as a whole."
The UNC Muslim Students Association also responded.
"Let it be published, that UNC Muslim Students Association is not a terrorist group, nor is it affiliated with or funded by any terrorist groups. It is absurd that we even need to make this statement," the UNC Muslim Students Association stated on Facebook the day after the speech. "… David Horowitz's disturbing comments criminalized hundreds of students on our campus, contributing to an environment of danger in which many Muslim students feel unsafe."
A guest column in the Daily Tar Heel on Tuesday added: "Horowitz is a member of an Islamophobic and anti-Arab network that promotes fear-mongering against Muslims and Arabs." Authors Layla Quran and Shamira Lukomwa also subtly accused Horowitz and his supporters of being racist by saying: "We are thankful for our allies on campus who stand with us in opposition to racism and bigotry. These allies and friends remind us of the true Carolina Way."
On the Not Safe UNC Tumblr page, some posts directly attack American freedoms.
One post says: "My brother is a victim of the #ChapelHillShooting b/c freedom of speech has been used to defame Muslims through lies. Speak up. #NotSafeUNC." Another post reads: "UNC: where admins value 'free speech rights' over the safety of students on campus, making room for harassers and hate speech #NotSafeUNC."
One commentator's example of bias against Muslims at UNC was a professor who would not let her turn in her midterm late after the shooting death of three Chapel Hill Muslim students in February.
But the UNC College Republicans have defended Horowitz. They put out a statement Thursday which was posted on Facebook that supported the ideals of free speech and pointed out that former Muslim Student Association members around the country have been responsible for serious crimes, including terrorism.
And they clarified Horowitz's comments referenced a broader, national picture.
"[W]e would like to address the claims that Mr. Horowitz branded certain students at UNC as terrorists," the statement read. "Throughout his speech, Mr. Horowitz brought many uncomfortable facts and opinions that challenged the prevailing views regarding groups such as Students for Justice in Palestine and the Muslim Students Association on the national level. A report by the NYPD states that MSA's are 'part of a growing trend of Salafi-based radicalization.' "
They noted "Abdul Rahman Al-Amoudi, national president of the MSA in 1982 and 1983, is currently serving a 23 year prison sentence for connection to terrorist activities, including a plot to kill the then Crown-Prince of Saudi Arabia, Abdullah Bin Abdulaziz."
They also cited Aafia Siddiqui, who "authored a guide published by the national MSA organization that encouraged members not to water down Islamic doctrine on issues such as jihad. She was convicted in 2010 for the attempted murder of a U.S. Army Captain stationed in Afghanistan, and was sentenced to 86 years in prison."
"Ali Asad Chandia was president of the Montgomery College (Maryland) MSA from 1998-1999," the statement continued. "In 2006, he was found guilty of three counts of conspiracy and for providing material support to terrorist group Lashkar-e-Taiba."
"Being uncomfortable with something that's said does not equate with being unsafe, and we intended to do nothing more than cause academic discomfort by inviting David Horowitz to UNC," the College Republicans statement added. "The ability to challenge prevailing viewpoints is essential to our democracy, and challenging those views can often result in uncomfortable feelings."
"We do not condone hate speech, but what we must embrace on this campus is intellectual diversity," the statement added. "If the left on this campus can bring a speaker as one-sided and divisive as Angela Davis, who was labeled a 'dangerous terrorist' and was put on the FBI Top 10 Most Wanted List for her involvement in the deadly takeover of a courthouse in Marin County, California, the College Republicans reserve the right to invite a similarly passionate, yet law-abiding, individual in David Horowitz."
Horowitz could not be reached late Thursday for comment.
College Fix contributor David Hookstead is a student at the University of Wisconsin-Madison.
Like The College Fix on Facebook / Follow us on Twitter
IMAGE: Gage Skidmore/Flickr