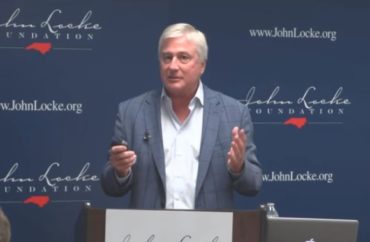 A University of North Carolina Chapel Hill professor said he's found that conservative students are overwhelmingly afraid to speak up about and defend their beliefs in class for fear of bullying from peers and being marked down on grades by professors.
And what's more, Business Professor Michael Jacobs said too many of his peers are content to teach only one side of the issue, almost in an attempt to convince rather than educate.
Jacobs, who teaches courses on corporate governance and business, politics, and public policy, published an op-ed in the News and Observer earlier this year explaining the problem after he spoke to the UNC College Republicans.
"I asked the young Republicans if they ever felt that answering a test question or paper assignment honestly—rather than appealing to the political bias of their professor—would cause them to receive a lower grade. All but two out of 40 students in attendance raised their hands," Jacobs wrote.
Jacobs told The College Fix that he did not conduct scientific research for the column, however his knowledge and observations come from teaching at the school for 13 years and listening to his two sons and many teachers' assistants and interns.
"It's a collection of feedback which tends to be extraordinarily consistent, but it's not what I would in any way characterize as an academic study," Jacobs told The Fix in a recent telephone interview.
When asked why he thinks his peers are willing to allow the bullying of conservative students in their classes, Jacobs said it's not necessarily intentional or malicious.
"My honest answer to that is I don't think they think they are bullying," he said. "I think that when you have a monoculture on a campus where basically almost everybody who's teaching social science classes … thinks about the world pretty much the same way then there's not an awareness that their biases can come across to students the way that they do."
As an example, he mentioned a student who came to him and told him about liberal bias he saw in a test question. The question was: "What's wrong with Trump's immigration policy?"
"The wording of the question assumes that Trump's immigration policy is wrong and then they have to explain why it's wrong even if they don't think it's wrong," he said. "That's the kind of thing that I would consider bullying that I think most of the faculty is unaware that they're doing."
Jacobs explained that he didn't write the column to "influence anything" or "stir up any trouble." He wrote the op-ed to educate the public on his findings. He said he wants to make parents aware as well.
"I don't think most parents who send their kids off to college fully appreciate the monoculture that they are putting their children into, and it may help explain why they came home with a very different worldview than they left with," Jacobs told The Fix.
As for where biased might be centralized at UNC, Jacobs said some departments are more unbiased than others.
"The business school is far more balanced politically than the rest of the campus, and the former chancellor and the interim chancellor who has just recently taken over are both people I would consider friends of mine," he said. "They're both very well aware of my views and they have never once discouraged me from writing about my views or speaking about my views. They think it's important that I do so."
Jacobs said that more of his peers in the professoriate need to teach both sides of the issue.
"Do you think it is a good idea for college students to hear the same basic worldview from 95 percent of their professors? I don't know how anybody in true honesty could answer that that's a good thing," he said.
In his op-ed, Jacobs wrote that professors should be required to provide viewpoints for all students, not just liberal ones:
Given today's toxic political discourse, professors who teach classes that address social, religious, or political topics should be required to honor a pledge to respect the viewpoint of all students, and to create an atmosphere where thought diversity is encouraged, not shamed or punished. Students should be informed of this ground rule, and there should be an accountability mechanism to report violations.
Reached for comment, a UNC spokesperson said the university "has a long tradition of protecting free speech and holds a green light rating from FIRE (Foundation for Individual Rights in Education). We have a duty to uphold the First Amendment of the U.S. Constitution, as well as the General Assembly's North Carolina Restore and Preserve Free Speech Act and a Board of Governors policy on free speech and free expression from the UNC System, both enacted in 2017."
MORE: At UNC Chapel Hill, 17 departments have zero registered Republican professors
IMAGE: YouTube screenshot
Like The College Fix on Facebook / Follow us on Twitter