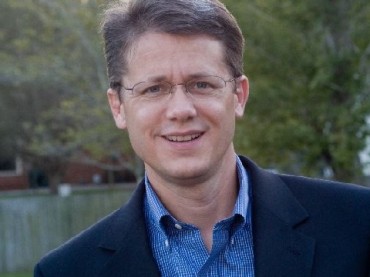 You'd think a professor who just won a seven-year legal battle with his administration – for denying him a promotion based on his conservative Christian views – would rest on his laurels and just enjoy teaching.
That's not the University of North Carolina-Wilmington's Mike Adams.
The criminology professor went apoplectic in his Townhall.com column last week over a campus administrator who apparently tried to organize a "human shield" to block a pro-life display with gruesome abortion images, the "Genocide Awareness Project."
Written as a public letter to the school's interim chancellor, Adams called for administrator Amy Schlag to be fired:
This marks the first time I have ever seen a college administrator a) actively join a public conspiracy to illegally deprive students of their First Amendment rights, and then b) actively promote the illegal action in an open and public manner.
Schlag leads the campus LGBTQIA Resource Office, which also "engages in viewpoint discrimination" by cosponsoring events with pro-choice groups but not pro-life groups, Adams wrote:
Unless you want to be sued again in federal court, I recommend you make a necessary personnel change. You have a ticking time bomb on your hands. The only question is whether you have the courage to defuse it.
What got more attention, however, was this line from Adams (he alerted police beforehand, who put the "human shield" behind barricades):
In other words, the animals needed to be caged so the adults could have a dialogue.
Outraged students went to administrators to complain about Adams' description of the pro-choice guerillas as "animals," WWAY reported:
"I want to know when does freedom of speech end and harassment begin?" asked Mikaela Flemming, a UNCW student. "For them, does that mean we have to wait until there is a direct threat?"
The school, understandably, doesn't want to get in another legal fight with Adams, so it told students that Adams' comments "likely would not qualify as violating the university's harassment policy and are typically considered protected speech under the US and NC constitutions," WWAY relayed.
Well, duh.
(The Daily Caller notes that these complaining students are tacitly OK with a fellow UNC-Wilmington prof who writes some really skeezy "gang-bang" poetry. Sample line: "Who would say No to my scholarly toungin? / Thank you fathers for your daughters.")
Adams clearly relished this kerfuffle he helped create, so he wrote a cheeky followup column giving the school advice on how to safely fire Schlag, a lesbian:
It seems that my calls for her termination have caused her supporters to gather and talk about the prospect of suing the university should she be fired. …

After lesbian activist Amy Schlag is fired from her position as director of the LGBTQIA Office she will likely find an attorney and sue. There is little doubt that the suit will claim she was fired on the basis of her sexual orientation. Therefore, it would seem logical for the university to head off the suit by immediately hiring another lesbian. The problem is that our university doesn't have enough money for an external search. So we'll have to hire one of our own lesbian activists.

Unfortunately, virtually all of the other lesbian activists on our campus are as close-minded and intolerant as Amy Schlag. So we could be replacing one legal liability with another.
The solution: Hire Adams!
My disorder centers on the fact that I have a natural, inborn desire to be a lesbian but I am unable to fulfill it because I am trapped inside a man's body. Believe me, I didn't choose to be this way. It just comes natural!
(Side note: When I was a columnist for The Falcon at Seattle Pacific University many years ago, I wrote a piece describing myself as a "lesbian trapped in a conservative man's body." To quote Tobias Funke, there are dozens of us! DOZENS!)
Adams would refocus the office – which is "obsessed with preserving abortion rights for those who have the kind of sex that doesn't lead to pregnancy" – on First Amendment topics, which "these academics should have learned in high school civics class."
They would learn:
Why you should do your homework beforehand and find out whether Mike Adams helped organize the free speech activity you conspire to shut down
That's what the kids call a mic drop.
It probably won't make Mike Adams any new friends. He's basically Marquette's John McAdams, except he has a free pass to troll his critics for the foreseeable future.
UNC-Wilmington's leaders must be kicking themselves that they created this cheeky monster.
Greg Piper is an associate editor at The College Fix. (@GregPiper)
Like The College Fix on Facebook / Follow us on Twitter
IMAGE: UNC-Wilmingly LGBTQIA Resource Office
Like The College Fix on Facebook / Follow us on Twitter