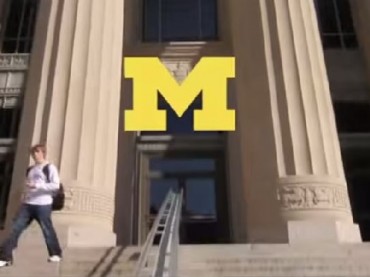 ANN ARBOR – The University of Michigan has been sued for suspending a student who allegedly had "nonconsensual sex" with one of his female friends in his dorm room, despite the fact that the "victim" refused to press criminal charges and expressed "uncertainty" over her allegation, according to the lawsuit.
Drew Sterrett, the 21-year-old engineering major who filed the lawsuit late last month, claims campus administrators refused to fully consider any of the evidence which he says proves his innocence, nor allow him to fight the accusation in a court of law.
"My client has been completely railroaded; there's just no doubt in my mind about it," Sterrett's attorney, Deborah Gordon, said Friday in an interview with The College Fix.
The lawsuit, filed April 23, states the university denied Sterrett of his constitutional right to free speech and due process, and not only demands that the campus clear his record and reinstate him, but also seeks punitive damages, as currently Sterrett is not in school nor working because of the ill-standing the university left him in. He has requested a trial by jury.
The lawsuit centers around an incident that took place the night of March 16, 2012, in the coed Mosher-Jordan Residence Hall.
According to court documents, Sterrett and his accuser had been hanging out with friends, and as they all went their separate ways for the night, she told him she didn't want to go back to her room because her roommate had "company."
Sterrett's male roommate went to bed on the top bunk the two shared, and Sterrett and his female friend started to kiss on the bottom bunk, the lawsuit alleges. It adds that she asked him to get a condom, and that when he asked her if she wanted to have sex, she said "yes."
"Complainant asked Plaintiff to put on a condom; he retrieved one from a drawer and did so," the lawsuit states. "Complainant never said 'no' and never pushed or attempted to push Plaintiff away."
Their lovemaking was so boisterous, the lawsuit alleges, that Sterrett's roommate even sent them a grumpy text about it at 3:19 a.m. EST which stated: "Dude, you and [complainant] are being abnoxtiously(sic) loud and inconsiderate, so expect to pay back in full tomorrow. I only don't say anything now so I don't embarrass you all, but I'm rightfully pissed. Yours Truly."
The young woman spent the whole night in the room, leaving the following morning.
After their encounter, they regretted that having sex made their friendship feel awkward, but there was never a change in their demeanor, and both Sterrett and the female student finished out their freshman year without incident, the lawsuit states.
Things took a turn for the worse over the summer of 2012, the suit alleges, when the complainant's mother read her daughter's diary, which detailed the young woman's sexual encounters at college.
It was that discovery, Sterrett's lawsuit alleges, that prompted the young woman to decide that she had been coerced into having sex and prompted the complaint to campus administrators. To prove his innocence, Sterrett even secured testimony from a friend of the accuser who shares his version of events.
But campus administrators were unswayed.
In particular, Gordon said her client was persecuted largely by one overzealous campus administrator, Heather Cowan, while the other nine administrators named in the lawsuit are largely accomplices.
"He was convicted by the University of Michigan by one person, her name is Heather Cowan…who took the complaint, investigated the complaint, and made the findings that Drew essentially assaulted this person," she said.
Cowan had led the investigation from the start. She had called him out of the blue during the summer of 2012 to interview him about the allegation, refused to allow him to involve the police, attorneys, or the courts, and convinced her superiors to suspend him based on one unsubstantiated verbal complaint, the suit alleges.
The young girl who lodged the complaint even stalled the probe during the fall of 2012, saying she felt "uncertain" about the whole thing, the lawsuit adds. But the damage had already been done.
Sterrett was kicked out of his dorm and told to stay away from Mosher-Jordan Residence Hall, he was denied a chance to become a peer leader and hang out with his friends, and in February 2013, he was suspended from the university until he admitted he was guilty of sexual misconduct, the suit alleges.
Gordon said this case represents an example of a campus tribunal with no standards or rule of law. She added this case has broader implications, noting many universities handle sexual assault cases on their own terms despite being unqualified to do so.
"It's just a really egregious example of what's going on on some campuses," Gordon said, adding universities have taken criminal matters into their own hands and they're very ill equipped to do so.
In a statement to the Detroit Free Press, U-M said: "The university is reviewing the complaints and plans to defend them vigorously. What we can say now is that our student sexual misconduct policy and practices meet or exceed due process requirements."
College Fix contributor Derek Draplin is a student at the University of Michigan.
Like The College Fix on Facebook / Follow us on Twitter
IMAGE: YouTube screenshot