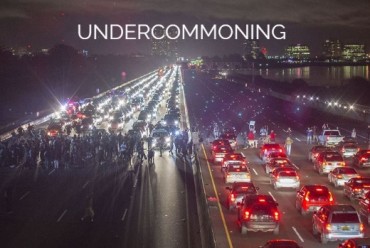 An upcoming workshop scheduled to take place at the University of Wisconsin-Madison aims to teach campus radicals and socialists how to manipulate campus resources to advance their agenda.
"Undercommoning: A workshop on becoming a thief in the university," was the exact wording of the subject line in a recent group email sent to University of Wisconsin-Madison scholars and others announcing the event, set for June 4.
The symposium, which will also be transmitted to a wider audience via Google Hangout, is described as a chance for campus radicals – students and scholars alike – to brainstorm ideas among their "newly formed Undercommoning Collective" on how to influence university resources and advance their socialist agenda and provocative causes.
Organizers did not respond to repeated requests for comment by The College Fix.
Their promotional literature – although rife with esoteric jargon, victimization claptrap, and academic gobbledygook – essentially explains that the daylong conference aims to equip participants with ideas on how to attack and exploit
the American university from within.
One of the group's overall goals, according to their website, is to "reveal and challenge the North American university as a site working at the junction of settler-colonialism, neoliberal capitalism, hetero-patriarchy, white supremacy and other systems of domination and exploitation."
"We also diagnose the university as a key institution of power that works in concert with police, prisons, the financial system, the 'lower' education system, punitive state bureaucracies, culture industries and other means of oppression."
As for the workshop, its participants hope to "create and share ways to remove enclosures set by the university, like debt and hierarchies of knowledge, in favor of reallocating and sharing resources that are intellectual and social as much as they are financial," organizers state.
The UW-M event, which runs from 9 a.m. through 5:30 p.m., includes sessions investigating university finances, what it means to be a thief, how to construct political narratives, and how to destabilize hegemonic spatial representations. UW-Madison Professor Karma Chavez will also host a conversation with M Adams, from the Young Gifted and Black Coalition, to discuss the appropriation of university resources for action beyond campus and how "non-black allies stand with those involved in radical black struggles."
"Sessions on critical research to be used within and against the university—from the archival to the financial—will be facilitated by graduate students, faculty, and independent scholars from across the U.S. and Canada who have been involved in this type of research at their home universities," they add.
Organizers openly declare the workshop's subject matter is inspired by Fred Moten and Stefano Harney's "The Undercommons: Fugitive Planning and Black Study." The authors, in the book, declare "the only possible relationship to the university today is a criminal one."
To the university I'll steal, and there I'll steal," to borrow from Pistol at the end of Henry V, as he would surely borrow from us. This is the only possible relationship to the American university today. This may be true of universities everywhere. It may have to be true of the university in general. But certainly, this much is true in the United States: it cannot be denied that the university is a place of refuge, and it cannot be accepted that the university is a place of enlightenment. In the face of these conditions one can only sneak into the university and steal what one can. To abuse its hospitality, to spite its mission, to join its refugee colony, its gypsy encampment, to be in but not of—this is the path of the subversive intellectual in the modern university.
Not all UW-M students agree this conference is a good use of a public university's time and resources.
"If you read through the scribblings of the Maoists who are set to attend the 'thief seminar,' you will find, on the one hand, the same jargon soup that sludges up all writing on the American left," UW-M graduate student Jason Morgan said in an email to The College Fix. "The participants almost universally describe themselves as some species of queer, trans, feminist, anti-capitalist, post-colonialist, ethnically oppressed, and/or class warrior."
Morgan added that he believes these scholars are out of touch with reality.
"[T]there is the startling failure of these Starbucks radicals to understand why in the world, for example, the taxpayers of the Great State of Wisconsin recently decided to whack them with a big pay cut," he said. "There is some kind of St. Vitus Dance afoot in academia, a kind of mass hysteria that has, sadly, divorced the humanities from all commerce with surrounding reality."
"The result is a pathetic mixture of comedy and tragedy. Insulting the taxpayers who fund your 'thief seminars' is all well and good, but when those same taxpayers later decide to fund a basketball team over your Occupy Madison rehearsal workshop, why act so shocked, shocked!, that such an eventuality should come to pass?"
College Fix reporter David Hookstead is a student at the University of Wisconsin Madison.
Like The College Fix on Facebook / Follow us on Twitter