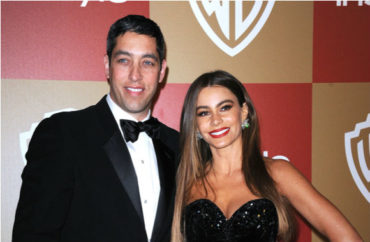 UPDATED
'The most-lied about cause in our country today'
He's spent four years fighting his celebrity ex-fiancée Sofia Vergara (right) for legal custody of the frozen embryos they created together.
Now Nick Loeb is fighting with two universities over another embryo-related issue: their alleged bias against the Roe v. Wade movie he's shooting in the New Orleans area.
The film stars Jon Voight and Stacey Dash and it's narrated by Alveda King (below), the niece of Martin Luther King Jr. It's intended to give an accurate depiction of the Supreme Court case that legalized abortion nationwide.
Louisiana State University refused to let Loeb shoot on campus after reading the script, while his alma mater Tulane University blocked a second day of shooting after the community learned about it, he told The College Fix in a phone interview.
Their rejection of his production is indicative of greater speech issues surrounding discussion of abortion on college campuses, Loeb said, calling abortion "the most-lied about cause in our country today."
The universities told The Fix they did not make decisions about the film based on its content.
LSU, however, did not object to the proposed filming date before it saw the script, according to an email chain provided by a university spokesperson. Tulane, which never asked for a script, started inventing excuses to block the second day of shooting, according to Loeb.
MORE: Abortion survivor tells college students her story
'Refused to put it in writing'
Loeb said he was motivated to tell the lesser-known elements of Roe v. Wade because "I wasn't told the truth growing up and I made mistakes, based on lies."
He was told that an unborn child is "just a gob of goo, a pile of tissue, a bunch of cells" in its first several months of development. The idea was "there's no real baby there. … I mean, we knew growing up that wasn't true."
He says that falsehood is even more evident today with technological advancements.
"There's a heartbeat in the first three weeks," Loeb told The Fix. "So the next generation doesn't make the same mistakes that I made, I think we need to tell the truth."
Both universities were initially "super excited" to be locations for the film when he approached them months ago, he said.
But after expressing interest, LSU asked Loeb for the script, the director said. Loeb clarified that the movie was rated PG and had no bad language, nudity, or violence, but the university still wanted to review it. When Loeb inquired if the controversy of the topic would be an issue, LSU simply restated it would have to review the script.
Shortly after, Loeb told The Fix, "one of the guys on the production got a call from the person he was dealing with at LSU and [that person] said, we're not able to accommodate you."
Loeb earlier told The Hollywood Reporter that LSU "told us on the phone [the rejection] was due to content" but "refused to put it in writing."
A pro-life group and a 'low-budget movie'
Ernie Ballard, media relations director at LSU, provided The Fix the six-week email chain between university staff and Loeb and his colleagues, starting in April.
It starts with Patrick Martin, assistant vice president of real estate for LSU, asking Manager of Operations Ashley Territo to provide "basic details of our process, rates, etc." to Ben Clapper, executive director of Louisiana Right to Life, who is helping make a "low-budget movie."
Territo told him to get in touch to discuss "filming procedures and process." Clapper then looped in Loeb and co-producer Cathy Beckerman to "discuss the arrangements" with Territo, and Loeb said they intended to shoot June 4. Throughout the email chain Clapper used his work email, which includes "prolifelouisiana."
During her phone call with Loeb April 4, Territo apparently asked for the script. Beckerman sent it to her the same day. More than a month went by before Territo responded to Loeb:
Sorry for the delay in getting back to you.  Thank you for submitting the request to film. After the review process, LSU is not able to accommodate your request to film on the campus.

Best of luck with the production.  I look forward to working with you on any future productions.
Loeb told The Fix that Territo did not respond to his May 16 email asking why and reminding her the film was clean and "100% factual."
MORE: The state is coming for your children because we devalued bodies
In his email to The Fix, Ballard called the review process a "movie script request," implying the content of the film is considered, though content is not listed among the "number of factors" he cited.
The university must consider "other events taking place on campus, camps being held at that time, construction on campus and the potential disruption to classes taking place," Ballard wrote:
When all those factors were considered, it was determined that LSU could not accommodate this request. The university receives a number of filming requests per year and each is treated in the same manner in determining whether the project can proceed on campus or not.
He noted that in addition to the mainstream movies that have shot on campus, the university allowed the Christian film God's Not Dead as well. Ballard gave no indication in his email that Territo or anyone else responded to Loeb's May 16 request for an explanation.
The spokesperson told The New Orleans Advocate Monday that LSU is "not aware" of any official mentioning the film's content, "and the director's staff has not indicated who it was."
'Every time we changed location, they had a new excuse'
Tulane initially agreed to allow a second day of shooting but then began shuffling the production around, Loeb told The Fix.
"They're the ones who are like 'you can shoot here, here, here or here, here are options.' We said 'great, we like them.' We went to book them," Loeb said:
All of a sudden they came back and said, oh they're being used, there's construction there, so we changed different rooms, different hallways. Every time we changed a different location on campus, they had a new excuse.
Looking for an explanation for what was happening, Loeb found an article "that had just come out" from the Tulane Hullabaloo, the school newspaper (below).
It cited the working title of the film, "1973," which purports to tell "the untold story of how people lied, how the media lied and how the courts were manipulated" in Roe v. Wade. The story quoted a student intern for the New Orleans Abortion Fund who accused Tulane of putting money over "justice for women" by allowing the campus shoot.
Michael Strecker, executive director of public relations, told the paper Tulane would not ban a shoot "because of the controversial nature of its content." To do so "is not in keeping with the university's support for the free expression of thoughts, viewpoints and ideas."
MORE: Pagans join increasingly diverse pro-life youth movement
Asked for the school's rationale for changing its mind, Strecker told The Fix in an email: "A second day of shooting did not take place because the spaces requested for the shoot were already in use. This often happens when films request to shoot on campus."
That's not how Loeb sees it. "There was a huge fight between students, pro-life and pro-choice students over this movie that had already been shot there," he told The Fix. "So I mean, come on, [put] two and two together":
Of course they're not going to say [content is behind] what happened. … [Otherwise] it's gonna inflame the students even more, you know, in terms of this whole freedom-of-speech issue, that's happening around universities around the country.
Planned Parenthood vs. 'the mass of Negroes'
Loeb thinks the seemingly growing opposition to the free exchange of ideas is particularly dangerous at public universities.
"When institutions, especially that are funded by the government, silence people, I think that's atrocious," Loeb said. "I don't think … the government should be funding institutions that silence the people that they spend money on."
The movie script references "over 40 books of sources," including "four transcripts, internal letters between justices, [and] speeches" related to the case, Loeb said.
Yet a media report falsely claimed that Loeb "twisted the words of Margaret Sanger," the founder of Planned Parenthood, he said: "I mean, I don't know how you can twist the words of, you know, 'The mass of negroes breeds carelessly in the south.'"
Loeb was citing the "Negro Project" proposal advanced by Sanger's Birth Control Federation of America, which became Planned Parenthood.
MORE: Black students highlight 'racist roots of Planned Parenthood'
According to a Harvard Law student's 1998 article in The Crimson, the project proposal read:
The mass of Negroes, particularly in the South, still breed carelessly and disastrously, with the result that the increase among Negroes, even more than among whites, is from that portion of the population least intelligent and fit, and least able to rear children.
"I'm not sure how in any other context you can twist the fact that Margaret Sanger was racist and a eugenicist," Loeb told The Fix. "In her own autobiography, she describes in detail one of the speeches she gave at a KKK rally" (below).
(According to fact-checking website Snopes, Sanger disparaged the group of white-supremacist women as "children" and said she had to make her address "in the most elementary terms." But a Washington Times columnist quoted the book's passage where Sanger says she received a "dozen invitations to speak to similar groups" after her speech.)
Loeb says he is at a loss for how to defend himself when "the media want to come out and say I lied in there. … They just want to hammer you down for telling the truth. Maybe they should pick up some books sometime."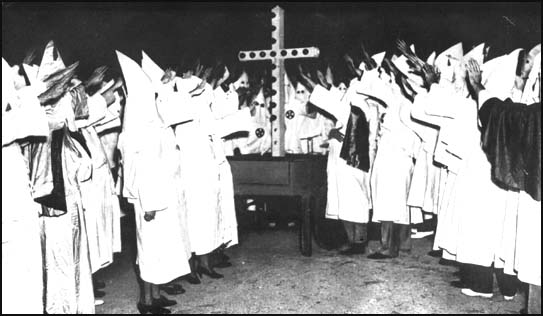 CORRECTION: Due to an editing error, the original photo of the KKK rally embedded in the article was a doctored version showing Sanger speaking. The authentic photo shows a cross in her place, and has replaced the doctored version. 
MORE: Pro-life students get poster honoring Sanger removed
IMAGES: DFree/Shutterstock, Tulane Hullabaloo screenshot, Snopes.com
Like The College Fix on Facebook / Follow us on Twitter