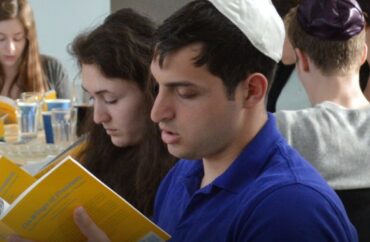 'The world is watching,' human rights group told universities. 'Will you rise to the occasion?'
Amid rising campus antisemitism, civil rights groups wrote to more than 500 university presidents reminding them of their obligations to Jewish students and demanding protections that reportedly had been denied.
Alyza Lewin, president of The Louis D. Brandeis Center for Human Rights Under Law, told The College Fix that grieving Jewish students had been denied accommodations following the Hamas attacks, which for many occurred during midterm exams.
This failure contrasted with the willingness of universities to grant accommodations after the murder of George Floyd or the election of President Donald Trump, she said.
Brandeis Center issued its letter to universities on October 12, with the Anti-Defamation League and eight other "Jewish and civil rights organizations" signing on to "express [their] shared concern about the safety and well-being of Israeli and Jewish members" on campus after "the worst pogrom committed against Jews since the Holocaust."
"The world is watching," the groups wrote. "Will you rise to the occasion?"
The Fix emailed Harvard, Yale, Princeton, the California State University System, Yeshiva University, and Texas A&M University to ask whether they had received the letter and to confirm or deny that grieving Jewish students had been denied accommodation requests. No response has been received.
The letter reminds universities of their commitment under Title VI of the Civil Rights Act of 1964 to protect Jewish and Israeli students from a "hostile environment."
"Events that celebrate Hamas' cold-blooded murder of Jews" create such an environment, according to the letter.
In a webinar accompanying the letter, posted to YouTube last week, Lewin called the denial of protections "unconscionable" in light of "what has been going on and what continues to be going on in Israel."
Denise Katz-Prober, the Brandeis Center's Director of Legal Initiatives, spoke in the video on hostility toward "Jewish and Israeli students on college and university campuses."
Universities "should be issuing strong statements that demonstrate support for the Jewish community but that condemn the actions of Hamas," Katz-Prober said.
"Pro-Palestinian anti-Zionist groups like Students for Justice in Palestine and others on campus are sounding more aggressive . . . in their language since the Hamas attacks," she stated.
"These groups are openly and loudly supporting, celebrating, justifying, and glorifying last weekend's massacre of Jews and Israelis by Hamas," Katz-Prober said. "They are often described by these groups as essential or as legitimate Palestinian resistance."
Many groups used National Students for Justice in Palestine-created banners depicting Hamas paragliders descending on Israeli civilians at the start of the attack, she said.
Protestors under the NSJP banner coincided with Hamas's call for "a global jihad against Jews," which was "adding to a very real sense of physical fear for students," Katz-Prober said.
Earlier this month, dozens of Harvard University groups signed a letter that "h[e]ld the Israeli regime entirely responsible for all unfolding violence" against Israeli civilians, The Fix reported at the time.
Last chance to support student journalists during our Back to School fundraising campaign! We're very close to our goal of $25,000. The deadline for the matching offer is quickly approaching so please donate by Oct. 31 to help us meet the goal. Thank you!
MORE: Jewish advocacy group accuses CUNY of rampant antisemitism
IMAGE: Connecticut College
Like The College Fix on Facebook / Follow us on Twitter