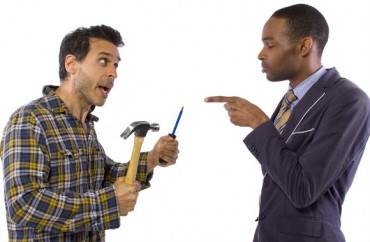 ANALYSIS
Did your parents attend college? You're privileged. Are you not allowed to marry your cousin whom you are in love with? You're not privileged.
That's the message of a variety of "privilege walks" at universities across the country, often during freshmen orientation but also held throughout the year.  
The University of Michigan hosts a "Privilege Walk Activity," as Kat Timpf at National Review noted in January. It instructs students to take a step forward "if you can legally marry the person you love" – apparently unaware that the only remaining restrictions on marriage in America concern underage brides and incest.
Michigan is not alone in promoting the privilege walk.
The University of North Carolina-Chapel Hill offers a "Cultural Competency Activity" and a "Social Class Privilege Activity," using much of the same language as the Michigan walk.
The activity also includes group-discussion questions for participants after the exercise is over, including: "Look at where you are located in regards to where you started. Are you above or below the starting line? How does your position make you feel? Are you surprised about where you are located?"
Another is "How did the activity make you feel?"
The UNC version is unusual among universities in lacking a trigger warning.
The Michigan version warns students: "IMPORTANT: This exercise can be very triggering, so do not do this activity unless you are sure you have plenty of time to debrief and reflect what individuals experienced during the privilege walk."
The State University of New York-Albany warns that its own privilege walk, which for some reason features a cartoon turkey, can cause more resentment if not done properly.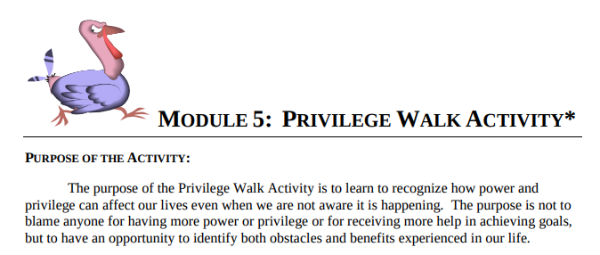 "This is a very 'high risk' activity that requires trust building and safety for participants; introducing this activity too early in the training or before building trust risks creating resentment and hurt that can inhibit further sharing and openness."
Anticipating that some participants may believe the whole point of the exercise is to single out people who grew up with certain advantages, the SUNY-Albany instructions reassure participants that the walk is not intended "to blame anyone for having more power or privilege or for receiving more help in achieving goals."
At the University of Arizona, the Residence Life department sponsors the "privilege walk – race" activity, which it labels "medium risk level."
In an activity that seems explicitly designed to accentuate the differences between white and nonwhite students, the instructions tell staff not to focus on race.
"If someone attends the program who is of a subordinated racial community [including 'bi/multiracial people'], be sure not to single them out for the 'person of color perspective,' stare at them to judge their reaction, or basically put them on the spot."
Instructions also tell staff to carefully tread on gender identity: "They should be treated like every other student, and invite everyone to share/participate as much as she/he/ze is comfortable."
Not to be confused with the privilege walk, the Residence Life department also sponsors a "privilege chain" that is "high risk" to participants.
They are asked to add a link for every privilege with which they identify, including "I attend a college or university," which presumably applies to everyone in a university residence life activity.
Other privileges include having the ethnic identity of "American," identifying as Christian, being able to "ignore the width of doors, the presence of stairs, and other architectural features of buildings," and being a man because of the misleading statistic that women earn 77 cents for every dollar a man earns.
Like many of the activities at different universities, the reflection asks, "How are you feeling right now?"
The University of Michigan, UNC-Chapel Hill, SUNY-Albany and University of Arizona did not respond to inquiries from The College Fix.

Like The College Fix on Facebook / Follow us on Twitter
IMAGES: Rommel Canlas/Shutterstock, SUNY-Albany screenshot