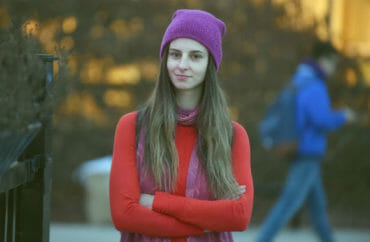 Professor warns about 'possible poison pill' in president's statement
"[T]he meeting never should have happened at all."
Six weeks after Wilfrid Laurier University teaching assistant Lindsay Shepherd was called into a meeting with two professors and a diversity office staffer in response to a complaint about her classroom lesson, the Canadian institution has confirmed it didn't follow its own rules.
President Deborah MacLatchy took responsibility for the "institutional failure" revealed by the "independent fact-finder report" commissioned by WLU.
The university hired an outside lawyer to investigate Shepherd's classroom decision to show undergraduates a three-minute TV Ontario clip that featured a debate on gender-neutral pronouns, and the disciplinary meeting that followed.
"There was no wrongdoing on the part of Ms. Shepherd in showing the clip from TVO in her tutorial," MacLatchy wrote in a lengthy statement Monday. "Showing a TVO clip for the purposes of an academic discussion is a reasonable classroom teaching tool."
A journalism professor who defended Shepherd against allegations she exposed her communications students to transphobia – and violated both school policy and Canadian law – told The College Fix that MacLatchy's statement is "mostly positive."
But David Haskell said he was disappointed that the administration did not come out immediately – "at the start of the controversy" – and state "unequivocally" that "showing a video from public TV … is acceptable practice."
The professor also flagged a section of MacLatchy's statement that he called a "possible poison pill."
'No formal complaint was registered'
MacLatchy said she wanted to "set the record straight" on a controversy that has brought international negative attention on the school this fall.
She did not want to "rush to judgement" at the start, and "erred on the side of caution" to protective the "sensitive" viewpoints of students, staff and faculty. (The faculty union recently claimed its members have feared for their "physical safety" because of negative attention.)
The investigation concluded that there were "numerous errors in judgement made" in the university's disciplinary handling of Shepherd, made worse by the "misapplication" of university policies and procedures, MacLatchy said:
In fact, the [Nov. 1] meeting should never have happened at all. No formal complaint, nor informal concern relative to a Laurier policy, was registered about the screening of the video.
The campus LGBT center confirmed to the Canadian magazine Maclean's that it submitted a complaint on behalf of a student who was offended by Shepherd's airing of the clip, which featured the controversial University of Toronto Prof. Jordan Peterson.
MORE: Shepherd could lose her job under parameters of investigation
New statement from @PresMacLatchy!
"..the meeting never should have happened at all. No formal complaint, nor informal concern relative to a Laurier policy, was registered about the screening of the video. This was confirmed in the fact-finding report."https://t.co/oC25DLRXuh

— Lindsay Shepherd (@NewWorldHominin) December 18, 2017
Though one of the criticisms of Shepherd was that she didn't contextualize the gender-neutral pronoun debate for her students, MacLatchy also absolved her of wrongdoing here:
Any instructional material needs to be grounded in the appropriate academic underpinnings to put it in context for the relevance of the learning outcomes of the course. The ensuing discussion also needs to be handled properly. We have no reason to believe this discussion was not handled well in the tutorial in question.
Using the passive voice to describe culpability, MacLatchy said best practices to "appropriately execute the roles and responsibilities of staff and faculty were ignored or not understood."
She continued that the training of "key individuals" to meet university expectations "must be improved."
The president then named an individual – Shepherd's supervising professor Nathan Rambukkana, who declined to give Shepherd any details on the alleged complaint in their meeting and told her the lesson violated Canada's gender-identity law.
MORE: Professor bans laptops to prevent Shepherd from recording her
Without naming the other professor in the meeting – department chair Herbert Pimlott – or diversity staffer Adria Joel, MacLatchy said those in the meeting have been told "their conduct does not meet the high standards I set for staff and faculty."
Though she can't publicly discuss personnel issues, MacLatchy said the university is "taking action to rectify the situation and send a clear signal that this cannot and will not happen again."
She promised "mandatory and standardized" training and support between course instructors and TAs for "clarity and consistency." (One of the TAs quoted in the Maclean's article said they received little guidance from professors.)
The president promised that the university will apply a "very specific administrative review" to  strengthen student and employee "confidence" in the university.
'Significant overreach' in use of policy on 'gendered violence'
In addition to announcing the report results, MacLatchy admitted the university's Gendered and Sexual Violence Policy was "misapplied" in Shepherd's disciplinary meeting "and was a significant overreach."
Joel, the diversity staffer, had suggested that Shepherd violated the policy by showing the gender-neutral debate video. Another WLU professor, Andrew Robinson, has publicly condemned the policy as "ideological" and said it could be used by students to report each other for violating the "orthodoxy" of inclusion.
The president implied that the entire policy could be on the table. Not only will WLU search for an "appropriate structure" to oversee the policy's execution, but it will "undertake a full review" of the policy itself.
But MacLatchy rebuked those who view Shepherd's incident as an "indictment" of the university, calling their views "unreasonable and unfounded."
Her statement attests to WLU's preparation of students in "navigating complex and divisive issues," and it teaches them that objectionable ideas should be "challenged and debated."
MORE: WLU faculty afraid for 'physical safety' but won't detail threats
In a section that makes clear the university is not adopting an expansive view of speech that would be protected in the United States, MacLatchy said freedom of expression and academic freedom require additional "responsibilities and accountabilities":
We will continue to ensure we are protecting against, and dealing with, hate and intolerance. Those have no place in civil society, let alone on a university campus. They will not be tolerated at Laurier.
Without providing evidence or explaining the nature of the communications, MacLatchy said those who were involved in the Shepherd controversy "were targeted with such vitriol."
She largely repeated the university's "unwavering" affirmation of support for the "LGBTQ2S" ("two-spirited") community, and the mission of its nascent Task Force on Freedom of Expression to develop "implementable guidelines" for classroom discussions.
How will administration define 'hate'?
Prof. Haskell, who has repeatedly defended a wide view of free speech and criticized the university's handling of the Shepherd incident, warned Monday that MacLatchy's statement included a "possible poison pill."
He flagged her comments that "free expression and academic freedom … require accompanying responsibilities and accountabilities," and that the university would continue to guard against "hate and intolerance."
This view of hate means "anything not purely SJW," he tweeted, using the initialism for social justice warrior.
MORE: Haskell warns Shepherd's critics are going full Orwell
Possible poison pill in WLU prez' new statement: "Free expression… requires accompanying responsibilities and accountabilities… We will continue to ensure we are protecting against… hate and intolerance." As detailed, "hate" = anything not purely SJW https://t.co/mygMQplAQ5

— DavidMillardHaskell (@DMillardHaskell) December 18, 2017
Haskell told The Fix in an email he worried that MacLatchy did not define how she would protect the university from "hate."
Her previous definitions of hate, seen in "letters, opinion pieces, and speeches," have favored "restricting free expression on campus," and other faculty and students have defined hate as "uttering ideas they find offensive," Haskell said.
"Pursuit of knowledge will be stifled significantly if this overreaching and erroneous definition of hate is applied," he continued.
Shepherd has yet to comment at length on the fact-finder's report or MacLatchy's statement, and did not respond to an immediate email query by The Fix.
She simply tweeted MacLatchy's section admitting the disciplinary meeting was a mistake, and retweeted one of her early defenders, Jen Gerson of the National Post, commenting on the president's acknowledgment that Shepherd did not err by showing the TV Ontario clip and overseeing classroom discussion.
The administration also did not respond to Monday requests from The Fix to clarify what MacLatchy meant by "accompanying responsibilities and accountabilities," and how the Gendered and Sexual Violence Policy could be revised.
Well. Glad Laurier got that one sorted out. https://t.co/OV0pEO4Vul pic.twitter.com/swyS326lwo

— Jen Gerson (@jengerson) December 18, 2017
MORE: Lawyer investigating Shepherd has history of revealing tweets
MORE: LGBT center was behind Shepherd complaint
IMAGE: NeoUnrealist/YouTube
Like The College Fix on Facebook / Follow us on Twitter