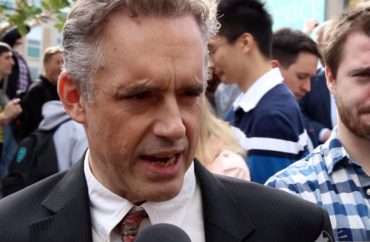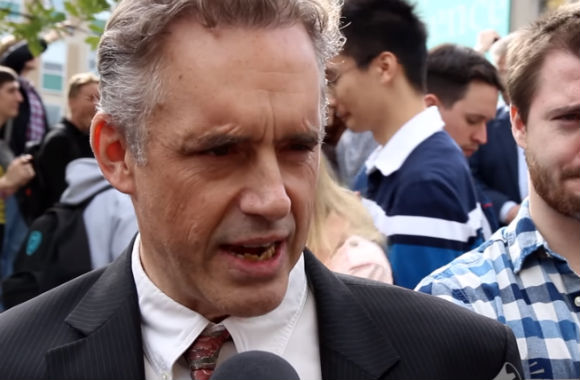 Showing a debate is 'legitimizing' a view that threatens trans students
A Canadian university unleashed hell on a teaching assistant because she had the temerity to show her communications students a TV show that debated the use of gender-neutral pronouns.
Now that her surreptitious recording of the disciplinary meeting with two professors and the manager of "Gendered Violence Prevention and Support" at Wilfrid Laurier University has been published, the administration has issued a half-assed and disingenuous apology.
As with so much else in Canada these days, this controversy was sparked by University of Toronto Psychology Prof. Jordan Peterson, who presciently warned a year ago the federal government's gender-identity discrimination law (C-16) would be used to punish people for "misgendering" others.
The TA, self-described "leftist" Lindsay Shepherd (below), played a TVOntario debate between Peterson and his critics on the "politics of grammar," the National Post reports.
Columnist Jen Gerson recently described the video:
During the hour-long debate, first aired in 2016, Peterson's main antagonist, a gender studies professor at the University of Toronto, argues that Peterson's refusal to use people's preferred pronoun was tantamount to abuse, violence and hate speech. Peterson's response — that it would soon be considered unacceptable to even host a debate, as TVO did — proved prescient.
One of Shepherd's students anonymously complained and she was hauled before her supervising professor, Nathan Rambukkana, plus professor Herbert Pimlott and administrator Adria Joel.
National Post excerpts of Shepherd's secret recording show that Rambukkana immediately suspected Shepherd of being a protege of Peterson, even though she didn't attend the University of Toronto.
She was never given the anonymous complaint filed against her, nor even told how many students complained, which Rambukkana said was confidential.
When Shepherd protested that she wasn't supposed to "comfort [students] and make sure that they are insulated away from this" timely and relevant debate in Canadian society, Rambukkana told her that she had to "think about the kind of teaching climate that you're creating":
And this is actually, these arguments are counter to the Canadian Human Rights Code. Even since … C-16, ever since this passed, it is discriminatory to be targeting someone due to their gender identity or gender expression. [It's unlikely the law applies in this case.]
Her supervising professor told her variously she was creating an "unsafe learning environment" and "toxic climate" for "very young adults [who] don't have the critical toolkit" to hear Peterson's ideas.
Shepherd was also "legitimizing" Peterson's view "as a valid perspective" in a direct threat to transgender students, Rambukkana said.
Joel, the administrator, clumsily said she violated university code:
Um, so, gender-based violence, transphobia, in that policy. Causing harm, um, to trans students by, uh, bringing their identity as invalid. Their pronouns as invalid — potentially invalid. [The Post says the university code is indeed broad enough for Shepherd to have violated it by showing the video in class.]
Prof. Pimlott said Peterson was a "public figure" in the same sense as white nationalist Richard Spencer, and neither's ideas have "academic credibility."
The meeting ended with Rambukkana ordering Shepherd not to show "any more Jordan Peterson videos, or anything of the like," and get pre-approval for her seminar notes and future media to be shown in class.
Shepherd ended up creating a Twitter profile to respond to the controversy.
Re: those claiming I have a right-wing agenda: Unfortunately, you have missed the point. Freedom to circulate ideas and debate current affairs is everyone's issue. I am a leftist. But I do not represent the leftism of Rambukkana/Pimlott, who believe in shutting down opposition.

— Lindsay Shepherd (@NewWorldHominin) November 16, 2017
Sorry the meeting 'occurred in the way that it did'
After a Wilfrid Laurier student posted a campus email from President Deborah MacLatchy responding to the recording, the administration posted the letter publicly.
MacLatchy did not apologize for the content of the criticisms against Shepherd by her superiors or the threats they issued.
Instead, she said the recorded conversation "does not reflect the values and practices" of the university (that's up for debate, though it's debatable whether Wilfrid Laurier would allow such debate) and she's "sorry it occurred in the way that it did" and its "impact" on Shepherd.
"The university has engaged an independent party to assess the facts of the matter including a review of related processes going forward," MacLatchy wrote. Her bigger concern, though, is the unwanted attention this has brought her wretched university:
I remain troubled by the way faculty, staff and students involved in this situation have been targeted with extreme vitriol. Supports are in place at the university to support them through this situation.
That's right – unnamed "faculty, staff and students" are getting more support than Shepherd herself.
The university also published an open letter to Shepherd from her supervising professor that MacLatchy characterized as an "apology," which is half-true. It could also be called a graduate-level course in covering your ass.
Rambukkana said he thought he was having an "informal meeting" with Shepherd but it got hijacked by others:
My main concerns were finding out why a lesson on writing skills had become a political discussion, and making sure harm didn't befall students [because that would violate federal law]. However, in not also prioritizing my mentorship role as the course director and your supervisor, I didn't do enough to try to support you in this meeting, which I deeply regret. I should have seen how meeting with a panel of three people would be an intimidating situation and not invite a productive discussion.
Hearing from "so many with passionate views on this issue" has led Rambukkana to "seriously rethink some of the positions I took in the meeting" – but not much:
While I still think that such material needs to be handled carefully, especially so as to not infringe on the rights of any of our students or make them feel unwelcome in the learning environment, I believe you are right that making a space for controversial or oppositional views is important, and even essential to a university. The trick is how to properly contextualize such material.
Because first-year communications students can't be shown a public-affairs program without some other context, apparently. At least Rambukkana is rethinking his assumptions about preaching social justice in the classroom:
Maybe we ought to strive to reach across all of our multiple divisions to find points where we can discuss such issues, air multiple perspectives, and embrace the diversity of thought. And maybe I have to get out of an "us versus them" habit of thought to do this myself, and to think of the goal as more than simply advancing social justice, but social betterment and progress as a whole.
In one of the more laughable sentences in his letter, Rambukkana says he looks forward to "continue working with you as my TA."
Shepherd herself isn't buying the convenient half-assed apologies, and she's also responding to poorly argued criticisms of her online and retweeting criticisms of the school.
Moral of the story: A university must be repeatedly publicly shamed, internationally, in order to apologize (oh, but keep the task force & investigation). Even then, ambiguous about free speech. Also, make sure to secretly record all meetings or they won't take you seriously.

— Lindsay Shepherd (@NewWorldHominin) November 21, 2017
This kind of thinking is exactly the problem. You fit right in with the trio that held my kangaroo court. Universities are places where we are free to talk about current societal topics and debates. Why do ppl think they have the moral righteousness to decide a uni's agenda… https://t.co/OtRazteLQi

— Lindsay Shepherd (@NewWorldHominin) November 19, 2017
Breaking news: I am also pro-racism now, because apparently I was unaware that trans people are not always white! (No, I don't follow the logic either) https://t.co/nGmdgGQ5vQ

— Lindsay Shepherd (@NewWorldHominin) November 21, 2017
Read the Post story, Gerson's column and the "apologies" from MacLatchy and Rambukkana, and listen to Shepherd's recording.
MORE: University cancels event called 'The Stifling of Free Speech on University Campuses'
IMAGE: The Rebel/YouTube
Like The College Fix on Facebook / Follow us on Twitter