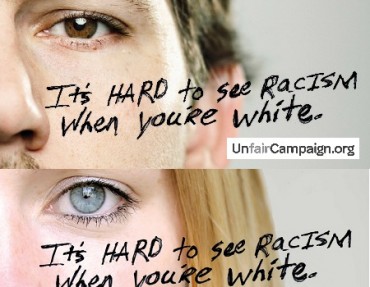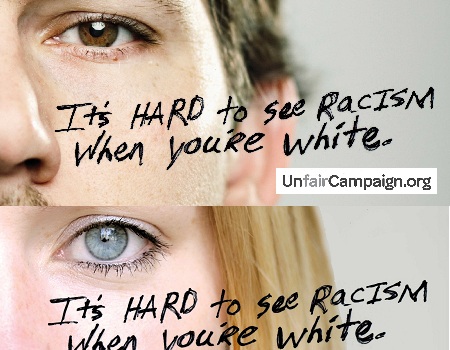 "It's hard to see racism when you're white."
That's the slogan of the Un-Fair Campaign, which says it wants to raise awareness of 'white privilege' in America, starting in the mostly white town of Duluth, Minnesota.
But the campaign, which is backed by numerous local institutions–including the town's mayor, Don Ness, and the University of Minnesota-Duluth–has received more heat than expected due to what some have called a divisive advertisement campaign.
The campaign put up posters around the Duluth area, which showed white peoples' faces covered in sentences like "We're lucky to be white–lucky that people see us, not a color," and "Is white skin really 'fair' skin?"
The campaign also released a video, which gained over 150,000 views on Youtube but received thousands of 'dislikes' and relatively few 'likes.'

In response to the criticism, UMD issued a press release dissociating itself with the controversial posters and videos. The press release noted, "While we fully support the foundations and principles of the Un-Fair Campaign, we feel the PSA is divisive and we do not agree with the creative strategy."
In the press release, UMD said it "expressed displeasure" that the Un-Fair Campaign's controversial PSAs attacking 'white privilege' were "aired without a chance for our review." It also reminded the press that UMD is merely one of the campaign's many sponsors, rather than its sole backer as was reported by some in the media.
But Joan Varney, who is an assistant professor of education at UMD and President of the Board at Duluth's YWCA–the organization that started the campaign–said the ads were not meant to offend, but to question.
"It certainly was not our intent to be divisive, and people are free to think what they want," she said. "But the students who have more education in racial history understood the campaign, I think, and people who do not may have interpreted it as an attack on white people."
Still, the message is important, said Varney.
"[We started this campaign] because of racial inequality, starting from the beginning of this country, which continues to this day," Varney said. "Some work has been done against racism but one of the missing pieces is the privilege white people in this country have in a way that is systematically conferred."
Samantha Lepak, a student at UMD who has written about the campaign before, responded to the University's press release.
"While I think it's good for them to stand by the campaign, I also think it's important they recognize that it's offensive and that there are better ways to do this," she said.
When asked whether she thought racism was a problem at UMD, she replied: "I don't think so–there are a lot of efforts to include people on campus."
Fix Contributor Charles Rollet is a sophomore at Northwestern University.
Click here to Like The College Fix on Facebook.