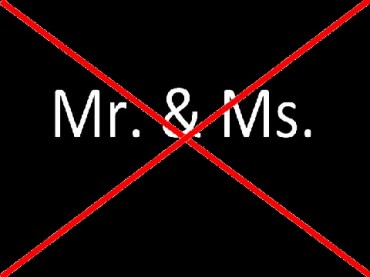 City University of New York's Graduate Center tells faculty to 'eliminate use of gendered salutations and references'
Professors and other employees at the City University of New York's Graduate Center have been forbidden from addressing students and prospective students with the title "Mr." and "Ms." because, campus leaders say, the terms may be offensive.
"Effective Spring 2015, the (graduate center's) policy is to eliminate the use of gendered salutations and references in correspondence to students, prospective students, and third parties," Louise Lennihan, interim provost, states to employees in a recent memo. "Accordingly, Mr. and Ms. should be omitted from salutations."
Lennihan instructs staffers to interpret the new policy "as broadly as possible," that it applies to "all types of correspondence, such as: all parts of any letter including address and salutation, mailing labels, bills or invoices, and any other forms or reports," states the memo, a copy of which was provided to The College Fix by school spokeswoman Tanya Domi.
Rather than using "Mr." or "Ms.," staff are instructed to refer to students by his or her full name. The policy will "ensure a respectful, welcoming, and gender-inclusive learning environment … [and] accommodate properly the diverse population of current and prospective students," Lennihan states in the memo.
The Graduate Center is the principal doctorate-granting institution of the City University of New York. It employees more than 140 teachers educating about 4,200 students in graduate and doctoral programs, according to its website.
School spokeswoman Domi told The Wall Street Journal, which first reported the new policy, that it aims to work "within a regulatory framework to comply with Title IX legal principles."
But Ari Cohn, free speech lawyer and advocate at the Foundation for Individual Rights in Education, took issue with the spokeswoman's suggestion that Title IX requires or even encourages a policy similar to the one the graduate center has implemented.
"Title IX prohibits discrimination—nothing more," he said in an email to The College Fix. "Unfortunately, this problematic justification is emblematic of a pattern that FIRE is increasingly concerned by: Title IX is being turned into a Swiss army knife that can be used by colleges and universities to justify (and provide political cover for) virtually any academic or institutional policy even tangentially related to sex or gender."
Cohn also questioned whether the policy will intrude on academic freedom.
"A strict mandate would impose on the way professors conduct their classes—traditionally the domain in which they have the most autonomy," he said.
Several CUNY professors did not respond to emails from The College Fix seeking comment.
Professor Juliette Blevins, a linguistics professor at the graduate center, has voiced reservations about the policy. She told the Wall Street Journal that dropping gender-specific titles may not enhance respect and inclusivity as it purports.
On the contrary, in some cultures, it is disrespectful to address a person without a salutation, she argued.
"[T]he policy, as it now stands—which encourages use of first and last name, without title—enforces one particular view of what is or is not 'gender-inclusive' without considering the negative effects it could have cross-culturally," she said.
The internal memo was sent Jan. 16. It has since prompted robust debate among academic circles across New York City and beyond.
"If a student asked me to call him 'Godzilla,' I would happily call him 'Godzilla' or whatever anyone asked to be called," Joseph Borelli, a Republican state Assemblyman who teaches a politics course at CUNY's College of Staten Island, told the Journal. "But we do not need another ultra PC policy change."
The memo makes no mention of how professors should act if a student wishes to be addressed with a traditional salutation.
"It's difficult to find a principled reason why the perspectives of those who prefer traditional salutations should be valued less than the perspectives of those who favor their abandonment, and that is precisely why language policing is best avoided altogether—it always entails making distinctions based on subjective preferences for a particular viewpoint," Cohn said.
College Fix contributor Alexandra Zimmern is recent graduate of the University of Wisconsin-Madison.
Like The College Fix on Facebook / Follow us on Twitter