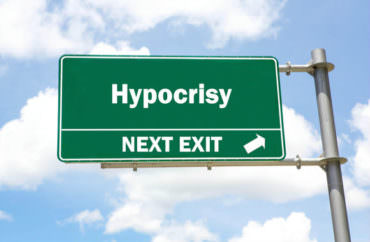 Black Lives Matter at a basketball game is fine, though
Months before President Trump's feud with the NFL over players refusing to stand during the national anthem at games, Adelphi University was telling its own student athletes to avoid the appearance of politics on the field.
But the private university near New York City has been selective in which political causes it considers taboo over the years, targeting conservative messages while enabling progressive ones.
Its president recently asserted her own right to tell students what political beliefs to exercise in response to the Trump administration's plan to rescind an executive order on college students who are in the country illegally.
Adelphi's strategy for selectively suppressing political behavior is a familiar one to conservative student groups: citing an oft-debunked reading of the federal tax code.
'Not an accurate representation' of diverse political beliefs on campus
Back in May, the university blocked the men's lacrosse team from using its warmup music during an NCAA tournament because the track included a recording of remarks by then-candidate Donald Trump.
The Faculty Senate unanimously voted May 15 to send a letter to the administration urging it to "address the issue," due to the possibility of the warmup music being "perceived as an Adelphi University endorsement of a particular politician and their [sic] entire platform." President Trump, who grew up near the university, had not been a candidate for office for six months by that time.
The statement said the lacrosse team's action was "not an accurate representation of the diversity of political beliefs on our campus," and that "during an inter-collegiate sporting event, our teams represent the university as a whole" rather than their own individual beliefs.
Adelphi University Faculty Senate asks administration to block lacrosse team from using Trump speech in "wa… by The College Fix on Scribd
According to an administration spokesperson, the Faculty Senate letter had nothing to do with the administration's ban on the track.
That letter was actually sent days after the university told the lacrosse team to junk the track in advance of its May 13 game against Pace University, Newsday reported.
The administration cited section 7.9 of the NCAA Division II men's lacrosse tournament host manual, which bans "team provided warm-up music" and requires the host team to provide "neutral music." There's no indication the NCAA ever weighed in on whether or not the track with Trump's remarks was neutral.
The lacrosse team played the track at a previous contest, as evidenced by a video tweeted by Barstool Sports.
MORE: Superintendent apologizes for 'Trump' banner at football game
Adelphi Lax bros come out the tunnel to a Trump speech. Somewhere @OldRowOfficial is ready to run through a wall pic.twitter.com/rPI8DyfbIJ

— Barstool Sports (@barstoolsports) May 10, 2017
Players lined up behind a teammate who was holding an American flag. As the music gradually got louder, the tail end of candidate Trump's speech at the Republican National Convention was played:
In all of our cities and all of our towns, I make this promise: We will make America strong again, we will make America proud again, we will make America safe again, and we will make America great again.
The players then began to enter the field following the flag as the speech ended: "God bless you and good night. I love you."
Threatens our tax-exempt status
Although the university claimed the music did not violate its own policies at the time, the controversy spurred the administration to change its rules to ban similar incidents going forward.
President Christine Riordan justified the policy changes in a statement to faculty and staff:
While the reactions to the [lacrosse team playing the track] were varied, in order to maintain its integrity as an institution of higher education, it is critical that Adelphi University maintain its neutrality in regard to any political activity or endorsement. The University does not and will not take political positions or make political endorsements.
She said Adelphi would not be "in line with the requirements of our tax code" if it didn't ban player-chosen music with tangential political overtones.
Adelphi University president claims the tax code requires it to censor students' political speech by The College Fix on Scribd
MORE: University says it must censor pro-Trump chalkings to obey tax code
DePaul University used the same excuse when it banned conservative students from chalking candidate Trump's name and slogans around campus, arguing its status as a 501(c)(3) organization was imperiled by students engaging in political activity on campus property.
The Foundation for Individual Rights in Education debunked the tax-code rationale for suppressing student political activity in a 2016 statement, noting the IRS does not "generally" attribute such activities to a college "unless they are undertaken at the direction of and with authorization from a school official."
'I know you stand with me' on DACA, president tells students
What is odd is that the Adelphi administration has not shied away, both recently and in years' past, from taking political positions that would threaten its tax exemption under its own logic.
On Aug. 30, Riordan pledged the university's "unwavering support" for students registered under the Deferred Action for Childhood Arrivals program, promising "to do everything within our legal power to protect our most vulnerable students" should the Trump administration phase out the Obama administration program.
Riordan even went so far as to say "I know you stand with me in support of one another"—hardly the reaction the university gave to the lacrosse team's politically ambiguous warmup music.
In addition to Riordan's public political stance in favor of DACA, Adelphi permitted a Black Lives Matter protest in October 2016 at a basketball game. Students and faculty, dressed in black, remained seated during the national anthem, fists raised.
According to The Odyssey, the protest was meant to support then-NFL quarterback Colin Kaepernick in his decision to kneel during the National Anthem, and "against police brutality."
MORE: Public university ditches 'war chant' at games to be 'inclusive'
MORE: Georgetown Law bans political speech 'over the internet'
MORE: House Republicans ask students to send in their censorship stories
IMAGE: northallertonman/Shutterstock
Like The College Fix on Facebook / Follow us on Twitter