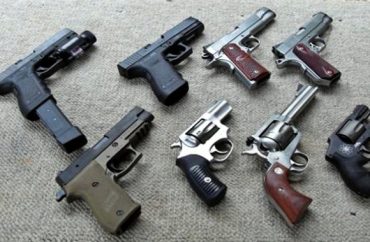 Administrator was given 'ultimatum' after board position became known
The chief financial officer of a Catholic university in Florida resigned after the school's president told her she would have to resign her position on a gun manufacturer's board if she wanted to stay at the school.
Anita Britt, the former CFO at St. Thomas University in Miami Gardens, Florida, resigned her position there yesterday after university president Msgr. Franklyn Casale gave her the ultimatum, The Miami Herald reports.
A petition had previously circulated calling for Britt's resignation, The Miami New Times reported last week.
Casale had previously signaled that Britt's position on the board of American Outdoor Brands did not disqualify her from her position at St. Thomas University.
"Ms. Britt's position with American Outdoor Brands provides her the opportunity to participate in helping the company achieve its objectives of making our communities safer and… does not conflict with her responsibilities here at St. Thomas," Casale wrote in a letter obtained by The Herald.
Casale later reversed his position.
"After my statement of this past Friday, it has become clear that many of the sensible and reasonable solutions to this gun epidemic, which have been discussed previously, were becoming less and less clear," he told The Herald this week. "Accordingly, yesterday I advised Ms. Britt that she needed to make a choice of either resigning her role on American Outdoor Brands, or her role as CFO at St. Thomas University, but that she could not continue on both."
Britt subsequently tendered her resignation as St. Thomas's CFO.
Casale's new stance came as outside pressure, from faculty members and outside observers, mounted. He had originally defended Britt's prerogative to serve in both capacities, stating that her role as board member did not go against the university's Catholic teachings…

Casale had referenced a statement made by American Outdoor Brands following the Valentine's Day shooting at the Parkland high school "indicating that the company shares the nation's grief over the incomprehensible and senseless loss of life at Parkland."

On Tuesday, he told the Miami Herald that the public reaction to Britt's holding both positions convinced him to take a stand.

"I came to the conclusion that St. Thomas was being associated with gun violence and that was not an image I thought was good for the university," he said.
Prior to her resignation, the faculty at St. Thomas had aligned against Britt, claiming that there was a "conflict of interest" in Britt's sitting on the board of the gun manufacturer while overseeing the university's finances.
Like The College Fix on Facebook / Follow us on Twitter