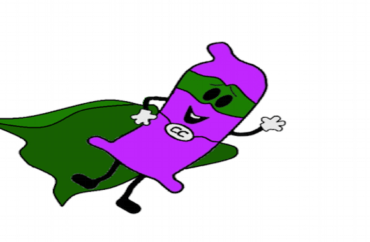 'They have banded together to fight Unsafe Sex and his band of rebels!'
A bizarre campaign on the University of Connecticut's website utilizes anthropomorphic cartoon characters to teach its students about "safer sex."
"The Safer Sex Squad is a UConn group of super heroes whose mission is to educate students and support choices around sexuality and sexual health," the university's Health Education website proclaims.
The "super heroes" in question have "banded together to fix Unsafe Sex and his band of rebels," according to the website.
The Safer Sex Squad consists of a half-dozen cartoonish representations of contraceptive devices and sexual aids. Captain Condom appears to be the leader of the Squad; he exists to "promote safer sex and help coordinate all of
[his] friends on the Safer Sex Squad." His nemesis, he declares, is "the diabolical Unsafe Sex."
Slick Sir Ran is another member of the Squad; he appears to be a talking roll of saran rap, and he declares himself to be "an alternative to latex to be used for oral sex to reduce transmission of STIs."
"As long as I am here," Slick Sir Ran declares, "STIs should fear!"
Other members of the Safer Sex Squad include "Lady Lube," "Poly Protector" (a female condom), and "the Abstainers," a group of stick figures who abstain from sex.
Among the Unsafe Sex goons is Unsafe Sex himself, a strange, indeterminate stick figure with a head apparently made out of fire. " I am often found sabotaging safer sex supplies or trying to figure out a way to sneak past the Safer Sex Squad," Unsafe Sex tells students.
It is unclear what kind of creature Unsafe Sex is, or how exactly he "sabotages safer sex supplies."
The anti-safe sex squad also features Rip Torn, a character who appears to be a broken, ripped-up condom. "If a condom is past its expiration date, a condom put on wrong or stored in a wallet or backpack too long—I am very happy!" Rip Torn announces.
It is similarly unclear what kind of animal or monster is Rip Torn—if he is the physical embodiment of a broken condom, or if he is just literally a broken condom that delights in other broken condoms.
See the whole list of sexual "super heroes" and villains here.
MORE: Harvard University hosts anal sex workshop
IMAGE: Twitter
Like The College Fix on Facebook / Follow us on Twitter