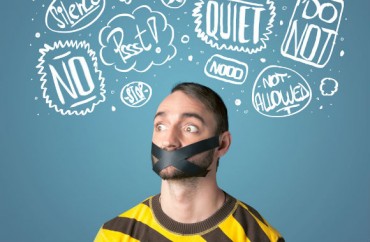 "Rape" and "crazy" are the latest words to be added to the growing lexicon of utterances some on campus deem hurtful and harmful, and campus leaders at the University of Nebraska-Lincoln are asking students to avoid saying them.
The public university has included those two words among six it's targeting in its "Think Before You Speak Inclusive Language" campaign, which launched late last month through its University Housing division.
"Saying 'rape' out of context ignores the reality of sexual assault—and that can have an isolating impact on a survivor of sexual assault," Melissa Peters, assistant director of residence life for student leadership and diversity initiatives, said in an email to The College Fix.
Another word deemed offensive is "crazy," as it "minimizes human emotion and those affected by mental illness," according to the university's website.
Other words and phrases targeted include "man up," as it "reinforces masculine stereotypes that are unhealthy"; "no homo," because it "devalues love and sexual identities"; "retarded" – it "suggests disability and stupidity are interchangeable"; and "ghetto," as it "misrepresents the experiences of others and negatively stereotypes minority groups," the website adds.
"We often hear students say things like, 'That test raped me,' or that something is 'so ghetto,'" Peters told UNL. "The vast majority of students aren't using these words to be malicious. But, intended or not, these are words that have impact and can hurt."
The six targeted words and their explanations have been put on brightly colored T-shirts, clothes doled out to some 300 students who volunteered to wear them around campus, Peters told The Fix. Students may wear any of the six T-shirts included in the campaign, which launched Oct. 22.
"We heard positive comments and were pleased to have a couple of other departments reach out to us to find out how they could become involved," Peters said.
Asked whether the campaign goes overboard or chills free expression, Peters said no.
"We see this campaign as purely educational—simply helping to remind all of us that the words and phrases we use may have unintended impacts on others," she told The Fix.
According to the university's website, early next year the second part of the campaign will launch, "posters showcasing terms that can be used in place of the words on the shirts."
It adds the campaign is modeled after inclusive language programs at other college campuses, including Michigan and Duke universities.
Words declared unacceptable through the University of Michigan campaign, which took place during the last year, included "crazy," "insane," "retarded," "gay," "tranny," "gypped," "illegal alien," "fag," "ghetto" and "raghead." Phrases such as "I want to die" and "that test raped me" were also chastised.
Similarly, at Duke, its 2014 inclusive language campaign warned students not to say "pussy," "bitch," "tranny," "fag" and many additional words and phrases.
And at Smith College last year, the word "crazy" was deemed so offensive by campus newspaper editors that they edited it out of a transcript of a speech and replaced with "ableist slur."
Like The College Fix on Facebook / Follow us on Twitter
IMAGE: Shutterstock