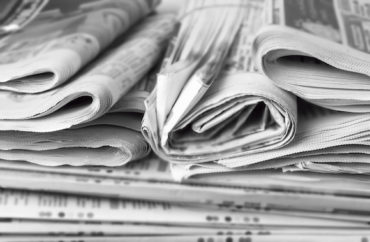 UPDATED
Paper featured striking photograph of recently deceased professor
A recent campus newspaper scandal appeared to have been partially resolved last week when university officials announced that a school employee was partly responsible for the disappearance of around 1,000 copies of the publication.
The Roanoke Times reports that Radford University's student newspaper The Tartan received pushback last month when it published a feature on recently deceased professor Steve Tibbetts. The accompanying cover photo to that feature showed Tibbetts and another individual standing in front of a street sign that read "Tibbets St." Appended to the sign was a "Dead End" marker, leading numerous people to take offense at the photo. (The picture had been provided by the Tibbetts family.)
Campus administrators were not pleased with the photograph, The Times reports, with one calling it "the singularly most insensitive editorial choice I've witnessed in 30 years." The newspapers subsequently disappeared "hours after they were distributed to racks around campus," according to the paper.
Now the school is claiming that a campus employee "was responsible for at least some of the" missing papers. The school was evasive in giving details about the incident, according to the paper; nor would campus officials account for all of the missing papers:
The motive for the removal of the newspapers was not discussed in [Chief of Police David Underwood's] letter, which was delivered to [Tartan editor-in-chief Dylan] Lepore Friday to announce the outcome of what Underwood termed an "administrative review."

According to the letter, a "classified staff employee" took the papers from four newsstands around campus on the evening of Sept. 18. The letter did not say what happened at another 18 newsstands where Lapore said newspapers also were removed…

The chief's letter said that his department consulted with the Virginia Attorney General's office and with Radford's commonwealth's attorney and determined that there was nothing criminal in "someone taking multiple copies of a free newspaper."

While there was no criminal charge, the worker was found to have committed a "Group II offense" under the state employees' disciplinary policy, the chief wrote.

Penalties for a first Group II offense can range up to a 10-day suspension and repeat offenses can lead to dismissal, according to a copy of the policy provided Saturday by Caitlyn Scaggs, the university's associate vice president for university relations.
The university refused to release video of the papers' disappearance, claiming that it constituted "part of the personnel record of the employee who took the papers" and was thus not subject to disclosure requirements.
Correction: This article originally misidentified The Tartan's editor-in-chief as David Lapore. His name is Dylan Lepore. 
MORE: University employees steal bundles of campus newspaper to stop 'bad publicity'
IMAGE: Alexsey Valentinovich / Shutterstock.com
Like The College Fix on Facebook / Follow us on Twitter