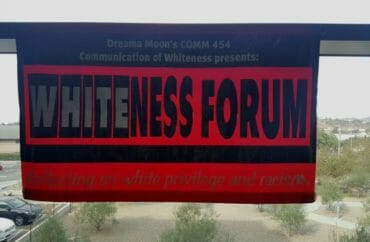 SAN MARCOS, Calif. — A "Whiteness Forum" at Cal State San Marcos on Tuesday prominently displayed 14 poster boards detailing different ways in which students say whiteness in America oppresses people of color and society.
For 15 years and "going strong," this annual forum has taken place as a part of Professor Dreama Moon's "Communication of Whiteness" course, the scholar said as she kicked off the two-hour event inside a large multipurpose room.
A banner hung at the front of the room indicated the "Whiteness Forum" is about "reflecting on white privilege and racism."
As part of the class, the students teamed up to create 14 different poster boards that aimed to illustrate different ways whiteness is allegedly oppressive.
Among the topics students broached: mental health services favor whites, media coverage is biased against people of color, Hollywood stereotyping, racism in the military, and real estate practices that favor whites, according to their projects.
The forum kicked off at noon with two spoken poems performed by students in the class who took the opportunity to express frustration with whiteness.
One of the performers, a female African American student, called Africa "the greatest country in the world, where we all once originated." Her poem went on: "On a daily basis I am seen as a threat, but you get a pass because you're white."
"I am an African American and by my people and country I stand," she continued. "I identify not with the equality of America, but with the 'We The People.'"
Another student's poem offered similar sentiments: "Whiteness thrives on the hate of everyone. Realize we are all pawns in this chess game. Every day is a day to challenge whiteness."
As the young women spoke their poems with passion, Professor Moon, who is white, stood nearby and watched with a smile. After the performances, Moon encouraged the crowd to interact with her students and learn about "white supremacy."
One poster board was labeled "#MentalHealthTooWhite." Its student creators argued that mental health concerns of white individuals are portrayed as alarming and complex, while people of color are shown as simply being crazy.
Another poster board labeled "Whiteness in the Entertainment Industry" depicted different films and television shows in which white actors had been cast in roles that some believe should have been portrayed by people of color. The students also accused Hollywood of stereotyping, citing as an example Sophia Vergara's "hypersexualized" character on "Modern Family."
At the "Writing It White" display, student creators accused the media of racial bias.
"Since newsrooms are largely white, ethnocentrism and unconscious stereotyping by whites produce positive images of Caucasians and negative images of people of color," the display stated. The display also argued that headlines tend to go easier on white criminals.
"No Human Left Behind" was another poster board on display focused on the military.
"In our discussion of whiteness, we argue that practices of power in both the past and present have continuously reinforced white supremacy in the United States military through the use of policies, attitudes and unequal opportunities given to minorities," the display stated.
"Students learn best when they actually do something as opposed to just hear something," Moon told The Fix in an interview at last year's event.
As the event took place, both a plain clothes and uniformed police officer remained nearby. Among the guests were members of the College Republicans, including Erin Clements, who donned her "Make America Great Again" hat.
Although it earned her a few stares, she said she had not received any backlash otherwise. She said she went to the event to understand what it was about and found it interesting but troubling.
"The event is racist in itself," she said in an interview with The College Fix, pointing out that if the forum was dedicated to any other race in the same way it was dedicated to whiteness there would have been a huge outrage.
The titles of the 14 booths were: "Anti-Racist Discourse in Mental Health," "Whiteness in the Entertainment Industry," "Writing It White," "Asian Does Not Start With A+," "Colorism," "Confederate Monuments," "It's Not Us, It's Them," "White Supremacy in Government Representatives," "Redlining," "The Spin," "Got Privilege," "No Human Left Behind," "Puerto Rico & Whiteness," and "Build Bridges Not Walls."
MORE: University's 'Whiteness Forum' takes 'critical look at whiteness'
Like The College Fix on Facebook / Follow us on Twitter