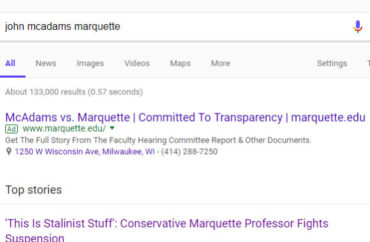 A legal battle for academic freedom (or Jesuit values) in Wisconsin
It's not often that a university buys Google advertisements to make its case in a lawsuit.
Yet that's what the Catholic university in Milwaukee did ahead of next week's oral arguments before the state's highest court in a case that bears on academic freedom and due process.
John McAdams and a slew of academic-freedom groups are challenging Marquette's indefinite, unpaid suspension of the conservative political science professor after he criticized a fellow instructor for refusing to let a student disagree with gay marriage in her classroom.
Marquette President Michael Lovell ordered McAdams to admit his "guilt" for blogging about the incident between Cheryl Abbate, at the time a graduate student instructor in philosophy, and a student in her undergraduate ethics class. He refused, and has been banned from campus for more than three years.
The administration and professor have continued arguing the case in the public square as the April 19 Wisconsin Supreme Court hearing nears. McAdams went so far as to describe Marquette's demands of him as "Stalinist stuff" in a recent Fox News interview.
"It seems ironic because Marquette claims to be a Catholic institution," but "a lot of institutions claim to be Catholic and fundamentally they're secular," he said on The Ingraham Angle.
"They told me that they would reinstate me if I apologized and promised to conform to Marquette's supposed guiding values," McAdams said. "No professor that anyone knows about has ever been fired or even suspended for a blog post."
MORE: McAdams asks top court to rush his appeal
'This Is Not About Academic Freedom Or Free Speech'
On Tuesday McAdams flagged the Google ad that pops up above the search results for "John McAdams marquette" on Google.
In the screenshot he showed (below), the ad text reads "McAdams vs. Marquette | Get the Facts." Under that text is this statement: "This Is Not About Academic Freedom Or Free Speech, but [sic] A Professor's Conduct."
The search phrase returned at least two variations when The College Fix tried it Wednesday night: "Our Commitment" and "We Live By Our Guiding Values And Stand By Our Original Actions & Decisions," and "Committed To Transparency" and "Get The Full Story From The Faculty Hearing Committee Report & Other Documents."
The ad links to a "facts" page about the case that claims McAdams violated the university's mission to "care for the whole person" because he publicly criticized a graduate student:
We cannot and will not stand by when a professor needlessly and recklessly harms a student teacher by putting her name and contact information on the internet before a hostile audience without her permission. If John McAdams had written the exact blog post and omitted the student teacher's name and contact information, no disciplinary action would have been taken.
It said McAdams violated his "professional responsibility" toward Abbate and placed her in the path of "direct, irreparable harm," which "violated his contract." The rest of the page contrasts each "myth" with a "fact" such as this: "John McAdams explored no option other than using his blog to dox a student teacher."
MORE: Student told he can't disagree with gay marriage – 'everyone agrees on' it
McAdams came out swinging in his blog post, saying that such placement on Google "does not come cheap" and accusing Marquette of wasting "tuition money" as well as alumni donations by fighting him in court and on Google.
Marquette's page is "biased and selective," he said. It is "utterly libelous" to claim that McAdams "doxed" Abbate by linking to her blog post that blames "all men" for "the prevalence of rape," since she listed her email address on her blog.
"Marquette, quite simply, is lying about this," McAdams continued. He did not respond to a Wednesday email from The Fix.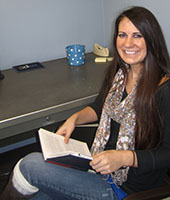 Abbate (left) is still using her blog as a doctoral candidate at the University of California-Berkeley, but her 2015 blog post on the controversy has been removed.
She said then she wasn't threatened following McAdams' blog post on her conflict with the student. "Yet, although these men were careful not to frame their messages in the form of a direct threat, their comments and emails should not be dismissed as just 'harmless comments,'" Abbate wrote. She eventually quit her job after getting cyberbullied by anonymous users.
In a January blog post, McAdams cited this since-deleted Abbate post to contradict President Lovell's public claim that McAdams exposed Abbate to "a flood of violent threats."
It was Abbate herself who brought up gay marriage in class while discussing how to apply the philosopher John Rawls' Equal Liberty Principle. The student told The Fix at the time that Abbate had told the class that "everyone agrees on" gay marriage, and when he told her later he disagreed, she told him to keep his "homophobic comments" to himself.
Wisconsin vs. Jesuits
Multiple academic, business and legal groups have filed friend-of-the-court briefs with the Wisconsin Supreme Court in the past two months.
Most appear to support McAdams, judging by the index maintained by McAdams' lawyers at the Wisconsin Institute for Law & Liberty.
The case is before the high court so quickly because the institute asked to "bypass the intermediate court" after a trial judge ruled against McAdams, the institute told The Fix.
The American Association of University Professors filed a brief asking the high court to "protect those who express controversial views from discipline and the silencing of their voices, thereby advancing the cause of academic freedom."
It noted that Marquette's Faculty Hearing Committee found McAdams' opinions were "protected by academic freedom" but that naming Abbate warranted a brief suspension, "but not termination."
The administration violated McAdams' due process rights "by unilaterally imposing a new penalty" requiring him to "write a statement of apology/admission as a condition of reinstatement," the brief said: "This severe sanction would compel Dr. McAdams to renounce his opinions, a fundamental violation of his academic freedom."
MORE: Why John McAdams is wary of settling his academic freedom suit
A group of "law and university professors and academics" filed a brief arguing that Marquette already incorporated First Amendment protections into McAdams' employment contract, preventing his termination, and the trial court wrongly deferred to Marquette's interpretation of its own contract.
The state of Wisconsin told the high court that McAdams' speech is protected because he was addressing "a matter of public concern," in this case "the basic purposes of postsecondary teaching." It asked the court to rule that such speech is protected from "adverse employment action" unless that action is the only method for "promoting workplace efficiency."
The only academic group supporting Marquette appears to be the Association of Jesuit Colleges and Universities, which told the court that Marquette applied its "Jesuit educational values" to McAdams and the court should "give effect" to the procedures that "ensure adherence to its faith-based mission."
One of the few briefs to predate the state supreme court's agreement to hear the case came from the Foundation for Individual Rights in Education, which criticized Marquette even before it punished McAdams.
It supported McAdams' motion to bypass the intermediate appeal in November, explaining that the implications go beyond Marquette.
"If a faculty member is not free to criticize, even publicly, the pedagogy of a fellow instructor, or to respond in kind to his or her critics, important institutional dialogues about teaching, scholarship, politics, and more will be deeply chilled," it said. "Faculty already report being reluctant to speak out and even to teach about sensitive issues for fear of professional repercussions."
Administrators around the country will "seize on the decision to justify disciplining faculty for public dissent on topics both internal and external to the university" if the lower court ruling stands, it said, urging the high court to "protect free speech and academic freedom before these crucial rights are irrevocably lost."
Marquette's senior and associate directors of university communication, Brian Dorrington and Chris Jenkins, did not respond to calls or emails from The Fix.
MORE: Bisexual Latino prof chased out – for being too conservative
IMAGES: Google screenshot, Cheryl Abbate's website
Like The College Fix on Facebook / Follow us on Twitter