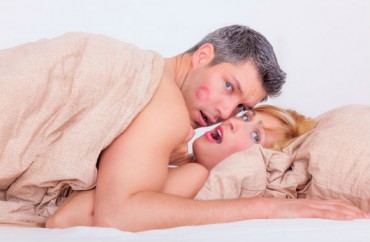 Show teaches students how to 'give and get' sexual consent
An elite university is forcing its students to attend a performance that teaches about consent, boundaries, hooking up and relationships.
Syracuse University mandates that "all new first-year and transfer students" must attend an event called "Speak About It," which the private research institution describes as "a performance-based presentation [that] includes thought-provoking and sometimes humorous skits and monologues, all based on true accounts, dealing with sexual consent, assault, misconduct and bystander intervention."
The show, which new Syracuse students were mandated to attend on August 28 and 29 of this year, also addresses "boundaries and healthy relationships" and "paints a picture of healthy sex and sexuality," according to the Speak About It website.
According to Speak About It, the show uses "personal stories to represent a wide range of sexual and relationship experiences." The show seeks to "promote healthy sexuality and relationships," "inform students about the realities of sexual assault," "provide tangible strategies for bystander intervention," and "connect audience members to campus and community resources relevant to sexual violence prevention, response, and education."
Speak About It has presented at more than 40 colleges and a dozen high schools across the northeastern United States. The organization performs customized "humorous yet provocative" skits at each institution.
Reached for comment via email, Katelyn Cowen, the director of the Syracuse Office of Health Promotion, told The College Fix, "The program provides an important opportunity to educate our students about the significant role they play in fostering and supporting a community where we look out for one another."
When asked whether or not freshmen and transfer students would be allowed to exempt themselves from the Speak About It presentation, Cowen did not reply.
The College Fix reached out to Shane Diamond, the executive director for Speak About It, to learn more about the program, how it came into existence, and the monologues it performs.
Diamond responded via email: "We strive to engage all students with our mission and message about consent and healthy relationships, regardless of political affiliation. Thus, we do not work with specific organizations that are explicitly aligned with any one side of the political spectrum."
Contacted repeatedly to clarify his comments regarding "organizations that are explicitly aligned with any one side of the political spectrum," Diamond responded: "We decline to comment further at this time. Best of luck with the research for your article."
In recent years other schools have offered programs that purport to teach sexual consent, some of them mandatory. Several years ago Indiana University at Bloomington began offering a sexual consent musical at its freshman orientation, the lyrics of which included: "You gotta get … consent! / If you think you're gonna do it, you need consent. / Consent … whoa consent / If you're waitin' to go further you need consent."
MORE: UChicago Sex Week includes love enchantments, 'sexual pain' workshop, BDSM tutorials
MORE: Feminist scholar's research finds that 'yes means yes' sex policies don't work in practice
IMAGE: Shutterstock
Like The College Fix on Facebook / Follow us on Twitter