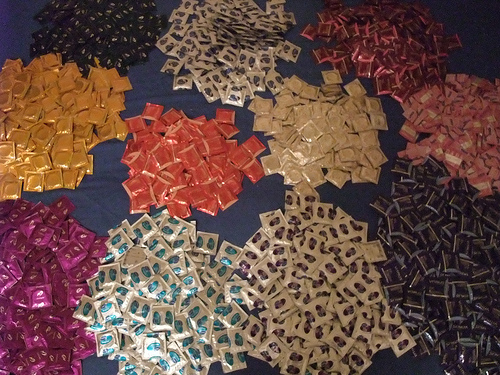 The University of Hawaii marked Valentine's Day yesterday by passing out hundreds of condoms to its students.
At the annual "Condom Fair," hosted by the university's health services division, rubber and latex took center stage, with games such as "the condom race" and "pin the condom on the jack," which campus officials described as "educational." The "Jack" is a picture of Jack in the Box's mascot's head with a man's body drawn underneath.
Prizes at the event, which took place in the center of the campus, included condom roses and condom lollipops. About 2,000 students attended.
"The purpose of the Condom Fair is to promote a healthier lifestyle through the appropriate and consistent use of condoms, healthy sexual decision-making, and good communication," campus officials stated. "The Condom Fair is not meant to promote sexual activity; however for students who do choose to be sexually active, condoms are the safest way to protect against sexually transmitted infections and unintended pregnancies."
The fair has taken place every year since 2007. It also includes nonprofit vendors, such as Planned Parenthood, and live music.
Click here to Like The College Fix on Facebook.