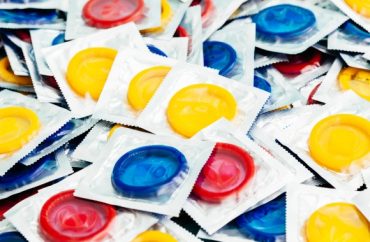 Students will transform condoms into 'an article of clothing or accessory'
Students at a Florida university next month will design articles of clothing and accessories out of condoms as part of a sex awareness event hosted by the university in conjunction with a condom company.
According to the University of Florida's website, the "Condom Design Challenge" will be held on Feb. 22 during a sexual health awareness event "Sex in the Swamp." The game is hosted by the health sorority Eta Sigma Gamma and the university's student health center, and is sponsored by ONE brand condoms.
"As part of [Sex in the Swamp]," the event listing reads, "ESG is hosting a condom design challenge sponsored by ONE brand condoms where students must create and transform condoms into an article of clothing or accessory!"
The sign-up form on the student health center's website stipulates that participants "may use a real accessory or fabric as a base, but the design must be made primarily using condoms."
Cecilia Luna, a health center spokeswoman, told The College Fix via email that the Sex in the Swamp event "started when ESG held a sexual health fair at a restaurant downtown, The Swamp…After holding the event, the hosting restaurant regulated that condoms could not be displayed out in public, resulting in the event moving to the Florida Gym."
The "purpose is to improve UF students' knowledge about healthy behaviors, with an emphasis on sexual health. This event aims to raise awareness surrounding risky health behaviors, specifically during Spring Break," Luna added.
According to the Student Health Care Center's website, the event will feature a live SEXpert Panel, free food, and free shirts for the first 150 attendees. The event will consist of teams comprised of 2 to 3 students designing costumes and accessories out of the condoms provided by the sponsors.
Milla Impola, a spokeswoman for Global Protection Corporation, the manufacturer of ONE condoms, told The Fix via email that the event is part of ONE's "Project Condom," which "works with university groups and health organizations to host condom fashion shows — where all the garments are made out of condoms." According to Impola, ONE supplied 5,000 condoms to the University of Florida for the event, as well as additional condoms and sexual lubricants for students to take home.
"By using art and creativity," Impola said, "the goal is to reduce stigma around condom conversations and provide a space where students can openly discuss sexual health topics."
Reached for comment via email, Eta Sigma Gamma chapter spokeswoman Sofia Arias told The Fix that Sex in the Swamp "is held right before spring break to promote these messages in a timely manner. Eta Sigma Gamma aims to reduce the stigma related to many of these topics by providing a safe and open environment for discussion and learning."
According to the student health center website, Sex in the Swamp will also feature "a live SEXpert Panel," free food & giveaways," and "free tank tops to the first 150 attendees."
MORE: UNC teaches students the 21 steps of condom usage
MORE: Ivy League university adds condoms to dorm vending machines
IMAGE: Shutterstock
Like The College Fix on Facebook / Follow us on Twitter