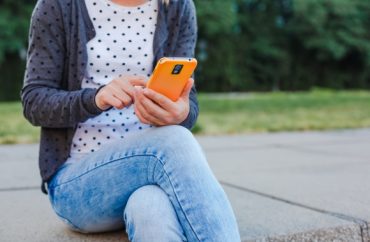 'Sanctuary campus' demand could 'jeopardize our institution' 
University of Illinois students and faculty used a police investigation into a stolen cellphone to pressure the administration to protect students from deportation.
While the UI System balked at the demand to make its campuses into legal sanctuaries for illegal immigrants, the Urbana-Champaign Senate convinced campus police to revisit how they conduct investigations.
The wide-ranging senate resolution approved Monday stems from an Oct. 10 incident in which officers at the Urbana-Champaign flagship campus entered a classroom to search for a stolen cellphone.
The College Fix obtained police reports that don't suggest anyone in the African-American Studies class panicked when officers entered.
But the professor claims their visit "terrified" him and his students as a clear case of racial profiling.
'We must uphold state and federal laws'
Following a 2,300-signature petition presented Monday to Urbana-Champaign Chancellor Robert Jones, UI System President Timothy Killeen said "definitional and legal questions" would prevent campuses from becoming sanctuaries from immigration enforcement.
"As a public institution of higher education, we must uphold state and federal laws," Killeen wrote in the letter emailed to faculty, staff and students.
"We cannot declare our campuses as sanctuaries, as the concept is not well specified and may actually jeopardize our institution," he said in the letter, also signed by System Executive Vice President Barb Wilson and chancellors at each campus.
"However, we will continue to do everything we can within the law to reassure, support and protect our students. Let us be clear … that includes our undocumented students."
#UofIKilleen, leaders pledge to continue support and protection for all students, including undocumented. https://t.co/UkpqfMtEMa

— U of IL System (@UofILSystem) December 6, 2016
Killeen's letter came a day after the Urbana-Champaign Senate, which includes faculty, staff and students, passed its sanctuary-and-police resolution.
Black officer didn't appreciate 'racial dynamics' in questioning black student
Two weeks after a September report of a cellphone stolen from a university locker, officers at the flagship campus traced it electronically to the classroom of Prof. Erik McDuffie, according to the initial and supplemental police reports.
The two responding officers initially planned to wait outside the room for McDuffie's lecture to dismiss, but the professor let them in because they were already distracting his class of 37, The News-Gazette reported.
Two black male students raised their hands when Officer Chuck Hoskins "asked aloud, 'Does anyone in here have a gray, I-Phone 6 Plus in this room,'" Hoskins said in a report filed later that day, which valued the phone at $850.
(The report obtained by The Fix redacts the race of the students as well as their names, but the version obtained by The News-Gazette discloses their race.)
MORE: Professor claims racial profiling after jaywalking arrest
"They both complied" and stepped outside to talk with Hoskins and Officer Rodney Mitchell, the report says.
The stolen phone's serial number matched one of the students' phones, leading him to admit he purchased the device from a student at a nearby college and that he knew it was "stolen" when he bought it.
University of Illinois police reports that preceded student resolution on racial profiling on campus by The College Fix on Scribd
Police decided not to arrest the student, although he stopped cooperating with the investigation a week later. On Oct. 17 Hoskins requested the case be "administratively closed" after a search for the suspected seller turned up no leads.
After McDuffie dismissed class early that day, the professor engaged the officers in an "intense" 10-minute conversation, McDuffie told The News-Gazette: "They did not seem to appreciate the kind of racial dynamics of the incident."
In a supplementary report obtained by The News-Gazette, Hoskins said McDuffie seemed more upset over the disruption and potential racial profiling than the crime, acting as though the theft "had no real victim."
UI professor upset by police visit to his classroom, @jawurth reports. 'incident terrified me … my students.' https://t.co/2SiSXFOB48 pic.twitter.com/J7jnAbb4bB

— news_gazette (@news_gazette) December 6, 2016
Hoskins, who is also black, said he told McDuffie that police "did not just randomly appear and systematically target [the student]. This was not a conspiracy by THE MAN."
Although the police department does not have a policy on entering classrooms, UI Police Chief Jeff Christensen told The News-Gazette that officers "very rarely" interrupt classes.
No evidence given that incident 'frightened, shocked, alarmed' students
The approved senate resolution requests a "campus review" of "best practices" for campus police entering university spaces in "non-emergency situations."
The senate also wants the review to include campuswide discussion on students' views of the "relation of race to … law enforcement," the resolution says.
MORE: Prof cries 'racism' for traffic stop, dash cam contradicts her
The Oct. 10 incident and unnamed others "involving campus law enforcement" have students questioning the university's "commitment to a robust academic freedom that does not disavow the varied needs for contingent safe spaces and trigger warnings," the resolution says.
It concedes that "there was no violence" in the Oct. 10 incident, but makes broad claims about the student reaction.
University of Illinois Urbana-Champaign Senate Resolution on Inclusive Campus Climate by The College Fix on Scribd
"[T]he class as a whole experienced the visit of the police as a racial incident," the resolution claims with no attribution. "Moreover, the incident frightened, shocked, alarmed, and infuriated students from all walks of life in Prof McDuffie's class."
(Hoskin's supplementary report says the student who bought the stolen phone told the officer, with McDuffie present, that he didn't feel "disrespected or stereotyped as a criminal.")
Is it standard practice for campus police to interrupt class to track a stolen cell phone?

— Sam Zorich (@SamZorich) October 10, 2016
In the same resolution, the senate requested "affirmation of policies and procedures that protect undocumented students' privacy and security" due to "potential changes in U.S. border and visa policy," citing recent "incidents of aggression, hatred, and intimidation."
The senate said it expects progress reports on these initiatives through the spring term.
MORE: UW students demand disarming of 'racist' campus police
Resolution author Prof. Kathy Oberdeck, chair of the Equal Opportunity and Inclusion Committee, told The News-Gazette her committee had a "very, very positive" meeting with Police Chief Christensen.
UIPD told The Fix Tuesday it was "eager" to continue dialogue despite the senate resolution having no force.
"We feel very strongly about encouraging an inclusive environment for all of our students, faculty and staff," communications specialist Patrick Wade said in an email.
"[W]e welcome the opportunity to review our practices and philosophies to ensure we're serving our campus community in the best way possible. We are always eager to have productive discussions with our campus leaders."
MORE: College dean blocks traffic, invokes racism when questioned
Like The College Fix on Facebook / Follow us on Twitter
IMAGE: Shutterstock