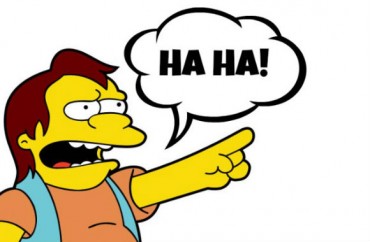 The threshold for showing racial animus against college students continues to plunge, with the Indiana Daily Student at Indiana University-Bloomington reporting on the troubles faced by its black students.
Among them: getting laughed at while riding a bike.
The story starts with a real racial grievance: Dorian Davis claimed that he was a victim of a drive-by drink thrower and N-word yeller, by all accounts a rare incident in the university town, yet one that the police department took seriously.
Then he and black student activist Luqmann Ruth go digging for other slights:
Ruth said he was laughed at by students on the lawn of a fraternity while he rode past them on his bike. Ruth also said students turned their backs on him when he walked into a party full of primarily white students. Davis said four of his friends were called monkeys and told to go back to the zoo while walking home from Dunnkirk.

It can't be proven these things were racially motivated, Davis said. But he said it often feels like a deliberate effort to make black students feel out of place.

Other instances of racially-motivated hate crime are difficult for officers to pursue, [Indiana University Police Department Capt. Andy] Stephenson said, such as derogatory graffiti or crimes where the suspect doesn't explicitly use hateful language.
What can cure these hard-to-pin-down slights of a possible racial nature? More money!
Ruth said he thinks creating a closer black community on campus would be a good first step toward a more positive experience for black students. Increased verbal and financial support for the Neal-Marshall Black Culture Center, the Black Student Union and movements like the Black IUnity March would show a vested interest in the college experience of minority students, Ruth said.
Like The College Fix on Facebook / Follow us on Twitter