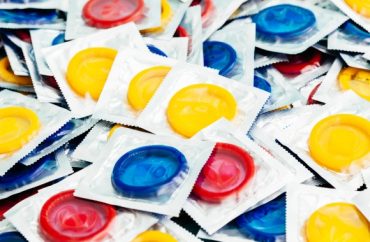 Condom dispensers have been installed in several dorms at the University of South Dakota in response to a rise in the number of sexually transmitted disease cases in the state.
The dispensers, which were installed last week, were placed in the bathrooms of six residence halls, a campus official told The College Fix.
John Howe, associate dean of students, said via email that along with providing the dispensers in bathrooms, the university will also place "small posters affixed to the wall with student health messages that will be changed monthly."
Data from the South Dakota Department of Health show that in 2016, the state saw the most chlamydia cases ever in one year and the most gonorrhea cases since the 1980s, KDLT reports.
Condoms will be free of charge to USD students, Howe told The Fix.
Ashley Hartnett, assistant director of housing, described this first round of dispensers as a "trial run," stating that there may be more to come.
"It's kind of a balance between making them visible to students so they know they're available along with the educational pieces, but then also providing some privacy for students that may want to grab one so that they're not feeling like they're out in the open where anyone can walk in and see them accessing it," she told The Volante campus newspaper in December.
When asked what role RAs will play in educating their students about safe sex, Howe told The Fix that "RAs and/or Hall Councils may offer programs related to student health or sex education with campus or community partners with expertise, but there is no requirement to do so."
MORE: Ivy League university adds condoms to dorm vending machines
Like The College Fix on Facebook / Follow us on Twitter