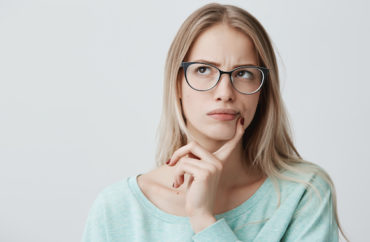 Oregon State University analysis finds bias against women in its Bias Incident Response system
An Oregon State University review of the school's bias response system found the reporting process to be biased against women, according to a document obtained by The College Fix.
The analysis used a computer program representing a hypothetical female to probe the university's computer systems for bias and found that its Bias Incident Response system is set up in a way that women might avoid using it because it's too risky, according to the report.
The analysis looked at 154 campus bias complaints between the summer of 2018 and spring of 2019.
The Leadership Council for Equity, Inclusion and Social Justice Bias Incident Response Workgroup recommended the school's administration "make improvements to the university's bias reporting systems to increase gender inclusivity" in the reporting process.
According to a press release issued by the university in June, much of the campus software "has built-in biases, often against women and minorities," adding that "such biases can impact how easily users can find critical information, perform work tasks, or even navigate web sites."
"When users are trying to figure out how to perform a task using software, some people tend to select the first promising option and then move forward in an incremental style, while other people tend to gather information on many options, and then make their choice," the release states. "These differences sometimes cluster by gender, but most software is optimized for only men's preferences."
In conducting its analysis, the workgroup used a system known as "Gender Inclusiveness Magnifier" (or GenderMag) which is "an evidence-based method for finding gender-inclusiveness issues in software features." The system is meant to identify ways individuals use technology differently.
According to the GenderMag website, the system is designed to fight "gender biases within software," focusing on "human-computer interaction (HCI) properties that take gender differences into account in the design of software."
At Oregon State, the GenderMag methodology was used to analyze online resources campus-wide, finding a total of 39 gender biases campuswide. Specifically for its online bias reporting system, GenderMag found a number of "gender bias and general usability issues."
"The cognitive facet proving most informative to our analysis of those resources was attitude toward risk," the report reads.
"Issues identified in this area, and improvements recommended, include rearranging the order of the information to make clear that some information on the bias incident report form is not required, changing and elaborating on the information related to the bias response process to address issues of perceived risk that potential bias reporters may be worrying about, such as how anonymous reporters can be, and who will find out that a bias incident has been reported, which may increase fear of retaliation or exposure."
When asked by The College Fix whether she thought it was ironic the school's bias reporting system was itself biased, OSU Distinguished Professor of Computer Science Margaret Burnett said it was "indeed a high priority to find that out quickly, so that such biases could be rectified." Burnett is one of the two heads of the GenderMag research team.
Attached to the workgroup report is a colorful flyer boasting that "Oregon State is Leading Gender-Inclusive Software Design."
"Academic & industry research at OSU and elsewhere has shown that cognitive diversity affects how different people use the same software," the flyer reads. "Furthermore, gender differences exist in how cognitive styles cluster for women compared with other genders and for men compared with other genders."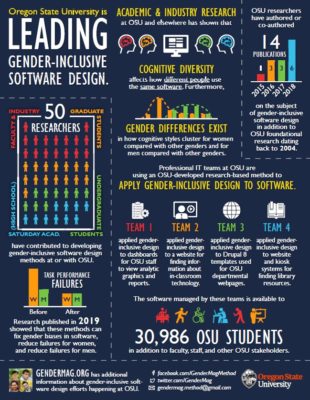 The attachment boasts that Oregon State researchers have authored or co-authored 14 publications on the issue of gender-inclusive software design since 2015.
According to a 2019 survey of 4,000 students taken by the Oregon State administration that is detailed in the report, 35 percent said they had "experienced or had been impacted by an act of bias," but only five percent of students had reported this act of bias to the response team.
The workgroup stated in its report this is evidence of "significant underreporting of bias incidents experienced by students at Oregon State," thereby recommending the school "increase awareness of bias incident reporting and response processes."
Curiously, while the report breaks down the actual 154 campus bias response complaints between the summer of 2018 and spring of 2019 by type (most are verbal remarks) and target (nearly half are student complaints about other students), the report does not list how many reports are filed by women.
But according to the survey of students, women and respondents not identifying a gender were more likely than men to report experiencing or being impacted by an act of bias.
In an e-mail to The College Fix, Oregon State Vice President of University Relations & Marketing Steve Clark said the university and its employees declined to comment.
The GenderMag process is largely a creation of Oregon State professors and students who are seeking to expand its use in academia around America.
According to a letter attached to the report by Professor Burnett, the university is aggressively marketing the GenderMag process to schools throughout the country. Burnett reports that she briefed Indiana University, the University of Wisconsin, North Dakota State University and others on the GenderMag process.
Recently, Burnett has increased the scope of GenderMag to serve nations overseas, including an appearance on the show "Good Morning Namibia."
MORE: Campus Roundup: The craziest bias complaints on campus
Image: Shutterstock.com
Like The College Fix on Facebook / Follow us on Twitter