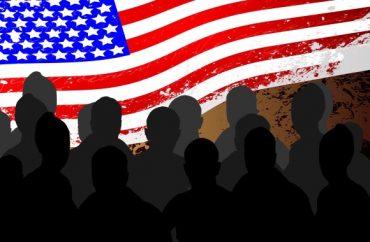 Reactions from campus leaders nationwide over President Donald Trump's controversial immigration order have been swift and sentimental, with many high-profile campus presidents denouncing the travel pause from jihadist conflict zones and reaffirming their commitment to protect students in the country illegally, or "Dreamers," from immigration enforcement.
Although President Trump recently said Dreamers "shouldn't be worried," that he has "a big heart" and "we're going to take care of everybody," many campus leaders conflated the terrorism-focused nature of the executive order with the issue facing students in the country as part of the Deferred Action for Childhood Arrivals.
Harvard University President Drew Faust on Sunday fired off a statement that affirmed the institution's commitment to its international affiliates, calling them vital. She also reiterated Harvard's support for undocumented students, which includes hiring a full-time attorney "dedicated to representing undocumented students" and launching a website that provides resources for those students, the Harvard Crimson campus newspaper reports.
The Ohio State University's President Michael Drake sent an e-mail to students Sunday night reaffirming the campus is "committed to protecting the information of all of our students, regardless of immigration status" and that "undocumented students are entitled to all of the rights and privileges of other students at Ohio State."
University of Michigan's President Mark Schlissel released a statement that the school "welcomes and supports students without regard to their immigration status" and that campus police "will not partner with federal, state, or other local law enforcement agencies to enforce federal immigration law except when required to do so by law."
University of California President Janet Napolitano — who served as Secretary of Homeland Security under the Obama administration, charged with protecting the nation's borders — issued a statement that she is "deeply concerned" by the order that "restricts the ability of our students, faculty, staff and other members of the UC community from certain countries from being able to enter or return to the United States."
Echoing former President Barack Obama's "that's not who we are," Napolitano, who leads the nine-campus system and its more than 238,000 students and 190,000 faculty and staff, stated that while maintaining the security of the United State's visa system is important, "this executive order is contrary to the values we hold dear as leaders of the University of California."
Napolitano, after Trump was elected, also instructed campus police not to contact, detain, question or arrest any individual solely on the basis of their suspected undocumented immigration status.
Trump's executive order, signed Friday, imposes a temporary, 90-day ban on people entering the U.S. from jihadist hot-spot countries: Iraq, Syria, Iran, Libya, Somalia, Sudan and Yemen. It also temporarily freezes refugee admissions for 120 days as the feds work to improve the vetting process. It has nothing to do with the DACA issue.
Yet Michigan students launched a petition calling for the "restriction of campus police from inquiring about immigration status and collaboration with Immigration and Customs Enforcement." They have collected more than 2,500 signatures so far.
Some faculty members have even called for a boycott of academic conferences in the United States in reaction to the executive order, the Chronicle of Higher Education reports.
At the University of Oregon, its leaders have declared support for all students "regardless of immigration status" and stated the university remains committed to "Deferred Action for Childhood Arrivals and providing an inclusive campus that values global citizenship and engagement."
Stanford University stated that it plans to "stick to our values, including our support for everyone who is a member of our community, and our support for the principles of academic freedom and freedom of expression." This includes undocumented students, according to President Marc Tessier-Lavigne's comments on immigration.
George Washington University's President Steven Knapp stated that students, faculty and staff members will not be "questioned, held or arrested by the George Washington University Police Department on the basis of immigration alone."
And the Rev. John I. Jenkins, Notre Dame's president, called on Trump to rescind the order, calling it "sweeping, indiscriminate and abrupt" and saying it "halts the work of valued students and colleagues who have already passed a rigorous, post-9/11 review process, are vouched for by the university and have contributed so much to our campuses," according to U.S. News & World Report.
Regardless of major universities' views on President Trump's executive order, a Rasmussen poll released Jan. 30 tells a much different story. Most voters in the U.S. actually support Trump's temporary suspension on refugees and visitors from jihad hot-spot countries. Rasmussen reports that 57 percent of Americans support the policy and just 33 percent are opposed.
Top Trump aides are also divided over the policy shielding "Dreamer" immigrants. Chief of Staff Reince Priebus has publicly stated that Trump will work with the Senate and the House to get a "long-term solution" on the issue.
Trump has kept his public comments on Obama's Deferred Action for Childhood Arrivals vague. Major university leaders are most concerned with the possibility of Trump scrapping DACA.
In a recent interview with ABC News, President Trump said "they shouldn't be worried."
"They are here illegally. They shouldn't be very worried. I do have a big heart," he said. "We're going to take care of everybody. We're going to have a very strong border."
MORE: UC President Napolitano to campus cops: Don't enforce federal immigration law
Like The College Fix on Facebook / Follow us on Twitter
IMAGE: Shutterstock