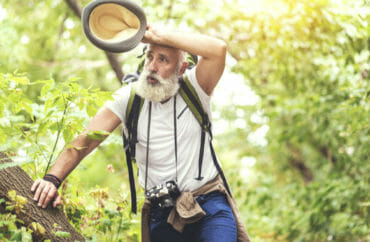 Campus cops like venues that are remote and isolated (unless it's for leftists)
Conservative student organizations make an anecdotally persuasive argument that their invited speakers have to jump through more hoops on campus than left-of-center speakers.
Universities can claim a viewpoint-neutral reason for this disparate treatment – the conservative speakers tend to draw a feistier opposition, and the university needs to protect public safety.
Of course that amounts to a heckler's veto, and public universities aren't legally allowed to treat viewpoints differently based on the response they provoke. (Private universities, on the other hand …)
The Young America's Foundation is accusing the University of Minnesota of preemptively caving to an expected heckler's veto by exiling its invited speaker, the rhetorical pugilist Ben Shapiro, to a venue "7 miles and a 15-20 minute drive" from the center of campus, YAF's Spencer Brown told The College Fix in an email. (Seven miles is the long end of estimated routes.)
The taxpayer-funded institution imposed no such restrictions on equally fiery leftists – then-Sen. Al Franken last summer and Sen. Elizabeth Warren in October.
MORE: Local residents sue UC-Berkeley for Milo-related injuries
They both got prime billing in the 1,500-seat Ted Mann Concert Hall, "centrally located on the main Minneapolis campus," a venue that had no known "conflicting events" when YAF requested it, the group claims:
Apparently, administrators do not want the event to take place near light rail, University Avenue, or hospitals that border the campus in case intolerant leftists react adversely to ideological diversity. …

The plan to effectively quarantine conservatives on a satellite campus [circled] shows the University of Minnesota's disregard for the free exchange of ideas and double standard when it comes to working with conservative students who wish to advance their ideas on campus.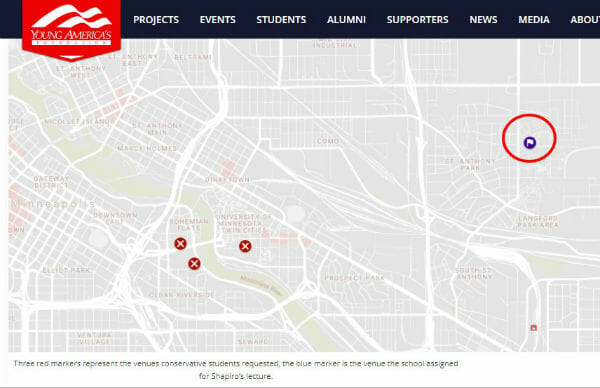 Bonus: 'There isn't any significant transportation routes nearby'
YAF's Brown provided The Fix an email thread among the student organizers, UMN Police Lt. Troy Buhta and Student Unions & Activities Assistant Director Erik Dussault. It shows their conversation about venue options (one rejected venue, the 450-seat Mayo Memorial Auditorium, isn't mentioned).
Dussault told the students Dec. 20 there were "rehearsals and performances scheduled for" the Ted Mann venue on both Feb. 26, the target for Shapiro's event, and the day after. There is "some availability before and after" Feb. 26.
The next day, Lt. Buhta shot down 800-seat Willey Hall on the main Minneapolis campus "due to access from the skyway." (YAF's statement said "its proximity to a light rail (public transit) station" also factored into its rejection.)
MORE: Berkeley mayor tells campus to disinvite Milo
Lt. Buhta served as cheerleader for the far-flung Continuing Education and Conference Center on the St. Paul campus, noting how deserted and easily secured the area is:
They do have large presentation rooms and the best part is the building is all by itself and much easier to secure inside with ample room outside. There isn't any significant transportation routes nearby. There is also a campus connector drop off close by.
In other words: It's hard to get to this venue unless you want to crowd onto a bus from a more accessible location. No wonder cops and administrators love this idea: less incentive for rabble-rousers.
According to the event hosts, this 400-seat facility won't come close to meeting demand for Shapiro, which is precisely the goal of the campus "fascists":
In the first 24 hours of our ticket sales, we had 725 requests for tickets. We could easily sell thousands of tickets.

We attempted to reserve every large capacity building on this campus. We know why we were unable to rent a large venue: The campus leftists and proto-terrorists who call themselves Anti-Fascists cannot hear a different opinion without promising a violent, disruptive protest.

The University is unwilling to risk protestors shutting roads, blocking trains, or forcing hospitals into lockdown so that students would have the opportunity to hear Ben Shapiro speak. The fascists won that battle. …

The University administration's reluctance to press charges or expel known fascist students engaged in violence and property destruction of bridge panels and previous speaker events, serves to encourage more of the same behavior that leads to shunting conservative events into undesirable venues that cannot serve the many Student Fee paying students that wish to attend.
MORE: Columbia to cover security costs when events face 'significant disruption'
Here's Spencer's take on the disparity:
When comparing speakers, Franken, Warren, and Shapiro all have similar notoriety and are in the news regularly. Why wasn't the U of M concerned with the proximity to light rail, hospitals, main university thoroughfares, and access from nearby buildings for liberal speakers? There we see a double standard. If administrators are insistent Ben not speak in any venue with those characteristics due to security concerns arising from the content of his speech, then we have unconstitutional time, place, manner restrictions in play.
Security is more important than liberty
The university told The Fix in an email it was "patently false" to suggest that Shapiro had been stuck with an undesirable venue "for ideological reasons," though it strongly leaned on the public-safety rationale for the venue choice.
UMN media relations did not answer what were the logistical differences between Shapiro's planned event and those for Franken and Warren:
We strive to meet the unique needs for each and every event, and the event scheduled for later this month is no different. When working to accommodate a venue request, our top priority is and will always be the safety and security of our University community, and with that in mind the University works with organizers to determine a location that meets everyone's needs to the best of our ability.
Flatly contradicting the account of the student organizers, the university claims they were searching for a smaller venue – 400-500 seats – than the one they later said Shapiro could easily fill. The venue also must "allow for the appropriate security for the event":
Multiple options were reviewed, including the Mayo Auditorium, Willey Hall Auditorium and Ted Mann Concert Hall. For a variety of reasons, these venues were not available or suitable for the event and the St. Paul location was agreed to.
The university won't say it out loud, but you can read between the lines: Violent leftists would attempt to create another UC-Berkeley war zone if the administration let Shapiro anywhere closer, and it's unwilling to shell out six to seven figures to physically protect the free speech of conservatives on campus.
MORE: College cancels gun-rights speech – it might provoke 'intense debate'
IMAGE: Olena Yakobchuk/Shutterstock
Like The College Fix on Facebook / Follow us on Twitter