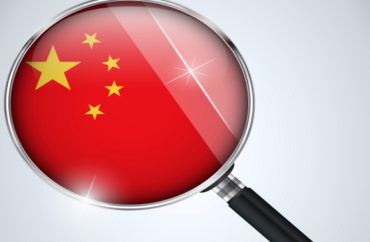 Peter Nolan, a professor at the University of Cambridge, warned his students against criticizing China's human rights violations against nearly two million Uighurs.
Nolan told students that there is not a "homogenous, correct view of what is happening [to the Uighurs] in Xinjiang," Open Democracy reported.
"You have to have both views represented," he said. "Otherwise the college will be perceived as being a campaigning college for … freedom for the Weiwu'ers [Uighurs]."
The comments were made at a private meeting last November, but just reported on this month by Open Democracy, a global investigative journalism organization.
Further, in his recorded comments from the meeting last winter, Nolan compared the Chinese Communist Party's persecution of Uighurs to the treatment of minorities in "all countries."
The professor also accused the U.S. Congress of funneling money to media outlets to report on the Uighur genocide, claiming its main goal is regime change.
Nolan's position is allegedly funded by the Chong Hau Foundation, a Chinese nonprofit that is controlled by Wen Ruchun, the daughter of former Chinese Prime Minister Wen Jiabo.
Professor Nolan serves as the director of the Chinese Executive Leadership Programme, which each year brings CEOs from China's largest firms to the University of Cambridge for a three-week training program, the university's website states.
Nolan has taught on topics such as economic development, globalization, and the transition of former planned economies, according to the university's website.
He's authored a book that argues the idea that China is buying the world is a myth.
Professor Nolan did not respond to The College Fix's request for a comment.
The Uighurs are an ethnic minority in Xinjiang that the Trump administration first determined was experiencing genocide in January.
The Biden administration has since upheld that finding, and the Canadian and Dutch parliaments both voted to declare that the Chinese regime is committing genocide against the Uighurs.
Cambridge University has a history of questionable, and some say unethical, financial entanglements with China.
In February 2020, Huawei, a Chinese telecommunications giant at the center of a geopolitical dispute between the United States and China, paid Cambridge's Jesus College about $215,000 to conduct a positive study about it, the Daily Mail reports.
Experts have warned that Huawei's 5G technology poses a significant threat to security and privacy of countries that choose to purchase it.
Chris Fenton, a China expert and author of "Feeding the Dragon: Inside the Trillion Dollar Dilemma Facing Hollywood, the NBA, and American Business," told The College Fix that this incident is indicative of broader geopolitical challenges.
"The challenges the United States and our allies face with China's relentless rise as a superpower are immense, numerous, and extremely complicated. They cover areas ranging from national and economic security issues, to trade and territorial disputes, to propaganda and censorship influences, and to the potential genocide and human rights abuses that Nolan references," he said.
He continued, "To find a proper fix to any of these requires constructive, unrestrained, and often publicly open discussion involving the participation of many points of view. Prohibiting such vital free speech will prevent the organic invention of crucial solutions, thusly surrendering the West to inevitable China hegemony. We cannot let that happen."
MORE: China's sanctions on scholars lead to growing academic backlash in U.S.
IMAGE: Augusto Cabral / Shutterstock
Like The College Fix on Facebook / Follow us on Twitter