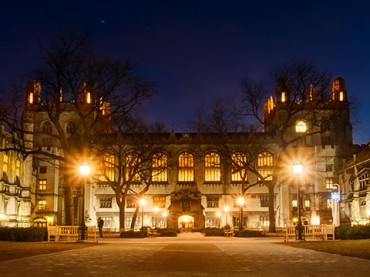 ANALYSIS

The University of Chicago is full of unsolicited stories of sexual escapades and kissing without permission slips, but surprisingly little sexual misconduct of the sort driving the It's On Us campaign against campus sexual assault.
That's according to a preliminary report from a campus climate survey given to students this spring.
The survey, which carries a trigger warning because of its use of "anatomical names of body parts" and descriptions of sexual misconduct, was administered by a polling center described as an "affiliate" of the university.
As with other campus surveys, the university's vague definitions of consent and incapacitation may have led students to reclassify sexual encounters they originally considered consensual as violations in retrospect.
The survey was sent to nearly 15,000 students and had an overall response rate of 35 percent for undergraduates, with more women (41 percent) than men (31 percent) participating. Those who participated were entered into a contest for one of 10 "cash cards" of $250.
About 20 percent of the population was "randomly selected and received additional email reminders" about the survey, giving their participation a 5-10 percentage point boost in each population segment.
Must have 'agreement' for consent, but definition remains murky
The June 8 report found rates of sexual assault substantially below the oft-repeated 1-in-5 statistic for college women, but high rates of broadly defined sexual harassment.
Among undergraduate women, 10 percent said someone "put a penis or inserted fingers or objects into my vagina or anus without my consent," and half as many said someone performed or made them perform oral sex without their consent.
Under the heading "sexual abuse," the survey found that 21 percent of women said "someone kissed me without my consent" and 36 percent said someone "touched, fondled, or rubbed up against" their breasts, "crotch or butt" without their consent.
Most of those incidents involved the "use of force, threat of physical force, or incapacitation" – for example, 8 percent of undergraduate women said they were penetrated under those conditions.
The questions did not ask students whether they considered themselves sexually assaulted or abused.
Students were told before answering questions that "consent" is defined as "the freely given agreement to the act of sexual conduct or sexual penetration." The survey instrument, however, does not specify how that agreement is to be made, such as with a verbal "yes" or a head nod, or revoked, such as with a "no" or shake of the head.
Students were mostly told what consent is not – such as the "lack of verbal of physical resistance" – while they were encouraged to question whether they could legally consent if they used "alcohol or drugs" prior to sex.
Students plagued by sex stories
Student responses on sexual harassment were the most striking, as they reflected a broad view of what counts as harassment.
For example, 85 percent of undergraduate women said someone had "made sexist remarks or jokes about women" in their presence. Undergraduate men were not exempt from belittling comments either – nearly three in five said that someone had made remarks of that nature about men in their presence.
The report also classifies as harassment someone telling students "about their sexual experiences when you did not want to hear them." Here, responses were nearly identical between undergraduate women (39 percent) and men (37 percent), though the question does not ask students whether they objected prior to someone sharing a tale of sexcapades.
The questions, again, did not ask students if they felt subjectively harassed, but rather categorized their responses as harassment after the fact.
University 'affiliate' conducted survey
The survey was carried out not by a third-party firm, but by the National Opinion Research Center (NORC) at the University of Chicago, "a nationally respected survey and research organization" with offices on campus, according to a university press release on the preliminary results.
The June 8 report says that NORC will give the university "a more detailed report on survey results" at a later date, analyzing factors such as the use of alcohol and other substances in sexual encounters.
Asked why the university opened itself to the appearance of a conflict of interest by using its own affiliate for the survey, spokesman Jeremy Manier referred The College Fix back to the school's press release.
"NORC is a nationally respected survey and research organization," Manier said, citing an "about" page that lays out the university's relationship to NORC, "an independent 501 ( c ) 3 [sic] research corporation" that is "not a part of the University."
The school plays up its closeness to NORC, however, noting that NORC provides faculty help with research grants as well as "on-the-job training for graduate students," among other collaborative efforts.
The report says the faculty committee that designed the survey instrument "referenced" a similar survey by MIT and the "Not Alone" toolkit created by the White House.
The committee includes Linda Zerilli, director of the Center for the Study of Gender and Sexuality," as well as Kathleen Cagney, who serves as both a sociology professor and NORC director.
Marielle Sainvilus, director of public affairs for the university, responded by email to Fix questions on the committee's behalf.
Faculty members were "asked to participate by the Provost" and "selected because they represent different schools and divisions across the university," and also have "expertise in the topic of the survey and in the design and conduct of surveys," Sainvilus said. She added that the survey was also developed with help from Stanford and Rice universities.
Like The College Fix on Facebook / Follow us on Twitter
IMAGE: Chris Smith/Flickr
Like The College Fix on Facebook / Follow us on Twitter